Joe Biden has faced criticism after his press secretary ended his speech mid-sentence during a media conference in the Vietnamese capital of Hanoi on Sunday.
Biden, who has been blasted by conservatives for the "rambling" nature of his answers to questions about his recent meeting with Chinese Premier Li Qiang at the G20 summit in New Delhi, India, was cut off by Karine Jean-Pierre. The president, 80, left the stage shortly afterwards.
His public speaking, along with his gaffes, have often been a cause of complaint during his presidency, as well as ongoing concerns about whether he is too old to run for a second term in office.
"We talked about stability," Biden said about his conversation with China's second in command. "We talked about making sure that the third world, excuse me, the southern hemisphere, had access to change and access. It wasn't confrontational at all."
Jean-Pierre then stopped Biden from continuing, telling the reporters: "Thank you everybody. This ends the press conference. Thanks, everyone."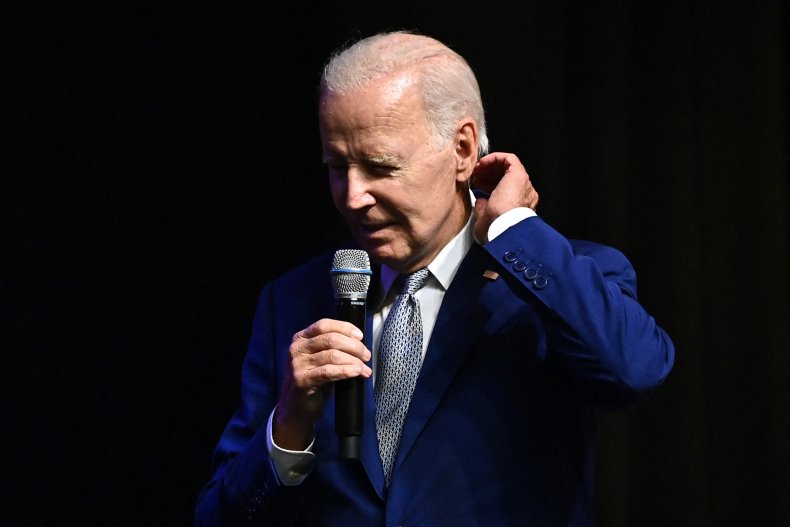 The incident occurred days after Jean-Pierre denied that staff and aides treated Biden "like a baby" as alleged in Franklin Foer's new biography of the president, The Last Politician: Inside Joe Biden's White House and the Struggle for America's Future.
A number of conservative figures shared online the clip of Biden getting cut off, some raising questions about how much control the president's aides have over his public appearances.
"Joe Biden's staff cut his mic in the middle of a sentence during a press conference. Who is really in charge?" podcast host Benny Johnson posted on X, formerly Twitter, while sharing a clip of the media outing.
Graham Allen, host of the Dear America podcast, wrote: "I have never seen this in my entire life. Joe Biden's press conference was ended and cut short by a staffer during a rambling Biden moment. What is going on?!?!?"
The Proud Elephant X account added: "WOW: Joe Biden was just cut off mid speech as he mumbled incoherently as his staffers were forced to whisk him off the stage in Vietnam. IS IT TIME TO INVOKE THE 25TH AMENDMENT YET???"
The 25th Amendment deals with the removal of the president from office.
Speaking ahead of Sunday night's press conference in Hanoi, Fox News correspondent Peter Doocy said that Biden had been "working through the night" having recently arrived from India.
"We expect a short statement off the top just about how the G20 in India and how its meetings went here with the Communist Party in Vietnam," Doocy told the Fox News studio while reporting from Hanoi.
"And then as many questions as he wants to take, he has been basically working all through the night, the equivalent of an all-nighter Eastern time, so he's probably pretty tired, pretty jet-lagged," Doocy added. "But he should take at least a handful."
Elsewhere during his speech, Biden admitted that he was relying on his aides to tell him which reporters he would be calling on to ask questions, a tactic Jean-Pierre had previously defended so the president can "get a sense" of what the media wants to ask him ahead of time.
"They gave me five people here," Biden said on Sunday. "I'm just following my orders here."
He also jokingly said that he would be going to bed after speaking with reporters.
At one point, replying to a question on fossil fuels, he recounted a scene from a John
Wayne movie. The excerpt was shared by the Republican National Committee on X.
"The Indian looks at John Wayne and points to the Union soldier and says, 'He's a lying, dog-faced pony soldier,'" he said. "Well, there's a lot of lying, dog-faced pony soldiers out there about—about global warming, but not anymore. All of a sudden, they're all realizing it's a problem. And there's nothing like seeing the light."
The criticism arrives after a CNN poll released Thursday found more than half (56 percent) of Democrats — and nearly three-quarters of Americans (73 percent) said they were seriously concerned for Biden's physical and mental competence.