Joe Biden Endorses 23 Virginia Democrats to Help Flip Control of State Legislature Amid Gun Control Push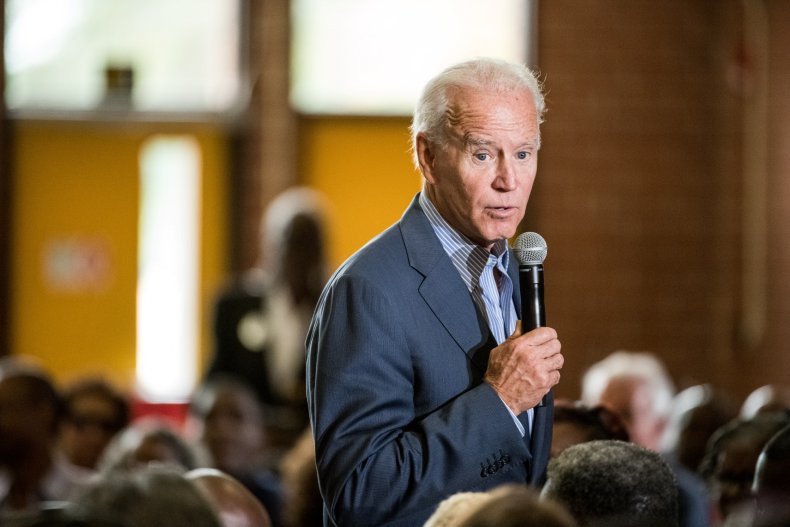 Joe Biden, one of the front-runners in the Democratic Party's presidential race, announced an endorsement of a slate of Democratic candidates in Virginia's upcoming general elections, when the entire General Assembly will be on the ballot.
Virginia has become a battleground for national interest groups after an unusually promising push for gun control sparked backlash among gun-rights proponents in the state. The two camps will now face off in a few days, when many Democratic challengers motivated by gun violence prevention will seek to unseat Republican incumbents.
Biden's endorsements ahead of the November 5 elections mirror endorsements made by prominent gun control groups such as Everytown for Gun Safety and Giffords. Former Congresswoman Gabrielle Giffords, the latter group's namesake, announced her organization's endorsements in Fairfax, Virginia, across the street from the headquarters of the National Rifle Association (NRA).
The NRA had worked to help quash a special legislative session tackling gun violence that was convened by Governor Ralph Northam after a gunman stormed a municipal building in Virginia Beach in May, killing 12 people. The session lasted less than two hours—owing in large part to pressure from groups like the NRA and its constituents—at the hands of the Republicans who control the legislature.
"I am proud to endorse these exemplary leaders from across the commonwealth who all share a unified goal: getting things done for Virginians," former Vice President Joe Biden said in a press release. "I know these leaders can make a Democratic majority in Virginia a reality. That's not just a win for Democrats, but a win for all Virginians — because these are the leaders who will stand shoulder-to-shoulder to protect health care, champion gun safety laws, and strengthen public schools."
The announcement came just hours before former Texas Congressman Beto O'Rourke, the most vociferous 2020 Democratic candidate on the issue of gun control, ended his presidential bid.
Biden is exceedingly popular in Virginia. A University of Mary Washington survey conducted in September found that he would best President Donald Trump in a hypothetical matchup by 18 points, a wider margin than any other Democratic candidate's.
One Democratic challenger selected for endorsement by Biden is small business entrepreneur Sheila Bynum-Coleman, whose daughter was shot in 2016. Although her daughter survived, the incident helped spur Bynum-Coleman into politics to seek legislative solutions to gun violence.
Bynum-Coleman is hoping to unseat Kirk Cox, the power Republican speaker of the House of Delegates. While she may have the advantage of the public's agitation for legislative action on gun control, Cox is a formidable opponent: he won his last election by almost 30 points above his previous Democratic rival.
In addition to Biden's endorsement, she has also received the backing of Everytown and Giffords.
"I am extremely grateful to receive Vice President Joe Biden's endorsement. It's so encouraging to see Democrats at all levels paying close attention to Virginia and what matters to the foundation of our party: state legislatures," Bynum-Coleman told Newsweek in a written statement. "With the vice president's endorsement, alongside the strong support from the grassroots, progressive organizations, and numerous elected officials, I am more confident than ever that we will be victorious on November 5."
On Sunday, Biden plans to hit the Virginia campaign trail to help turn out the Democratic vote just 48 hours before Election Day. Republicans currently hold a narrow two-vote margin in both the House and Senate.