Joe Biden Will Visit Georgia Ahead of Key Senate Runoff Elections
President-elect Joe Biden will travel to Georgia next week and campaign with Democratic candidates Raphael Warnock and Jon Ossoff in the run-up to the state's key Senate runoff elections.
The president-elect's transition team revealed on Thursday morning that Biden plans to campaign in Atlanta on Tuesday next week. It is not yet clear whether Vice President-elect Kamala Harris will be joining Biden on the stump.
NBC News reported that the event would be the president-elect's first campaign appearance since he secured victory over President Donald Trump in the November 3 presidential election.
Newsweek has contacted the Biden transition team for further details and comment. This article will be updated with any response.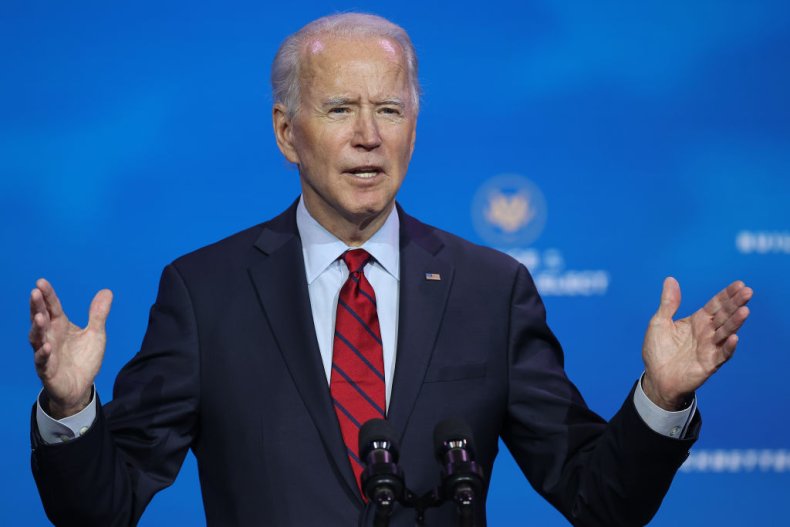 Democratic challengers Ossoff and Warnock will appear with the president-elect with less than a month to go until they face Republican Senators Kelly Loeffler and David Perdue for control of Georgia's Senate seats.
If the GOP incumbents lose their seats, the upper chamber will have a 50-50 split, meaning Republicans will also lose their majority in the upper chamber. Under that scenario, Vice President-elect Harris would have a tiebreaker vote, effectively handing Democrats control of Congress over the first two years of the Biden administration.
President Trump held a rally in Georgia at the end of last week, and called on his supporters in the state to "hold the line" and register to vote before the deadline so they could preserve the GOP majority in the upper chamber.
"You must go vote and vote early starting December 14. You have to do it," Trump told the rally. "They cheated and they rigged our presidential election, but we will still win it."
Senate runoff election polls in Georgia have been mixed since mid-November. A Data for Progress survey released last week found Warnock marginally ahead of Loeffler, with 50 percent of likely voters backing the challenger. But it also found Perdue 2 points ahead of Ossoff among state voters.
Another poll from SurveyUSA showed Sen Loeffler trailing Warnock by a decisive 7 percentage points among likely voters, while Ossoff led his Republican rival by a margin of 2 points.
The contenders for Georgia's all-important Senate seats were slated to go head-to-head at debates on Sunday night, but Perdue dodged his one-on-one with Ossoff, leaving his empty podium open to attacks from Ossoff. Both Loeffler and Warnock turned up for their debate.
"Senator Perdue, I suppose, doesn't feel that he can handle himself in debate," Ossoff said on Sunday. "Or perhaps is concerned he may incriminate himself in debate. Both of which, in my opinion, are disqualifying for a U.S. senator seeking re-election."