Joe Biden Wants More Control Over Guantanamo Bay Prisoners, Objects Congress' Restrictions
President Joe Biden on Monday voiced opposition to provisions in the Senate defense bill that restricts his authority over Guantanamo Bay in Cuba.
Biden aired the grievances in a statement after signing the crucial National Defense Authorization Act (NDAA), an annual bill that provides billions of dollars in funding for the Department of Defense.
The president praised the legislation for providing "vital benefits" for military personnel but took issue with section 1032 and 1033—measures he said bar the use of funds to transfer Guantánamo Bay detainees to the custody of other countries and into the United States unless certain criteria are reached.
"It is the longstanding position of the executive branch that these provisions unduly impair the ability of the executive branch to determine when and where to prosecute Guantánamo Bay detainees and where to send them upon release," Biden said.
The president said the limitations imposed by the provisions may make it hard to comply with court decisions or negotiate with other countries over the transfer of detainees without threatening national security.
"I urge the Congress to eliminate these restrictions as soon as possible," he added.
Less than 40 prisoners remain at Guantanamo Bay, though the camp has held nearly 800 men since it was established during George W. Bush's administration after the Sept. 1, 2001 terrorist attacks. The Associated Press reported in September that most of the men currently at the site haven't been charged with a crime.
The White House has supported shuttering Guantanamo Bay, and in July the administration transferred its first detainee out of the wartime prison. Abdul Latif Nasser, 56, was first recommended for discharge during the Obama years and was released to his home country of Morocco.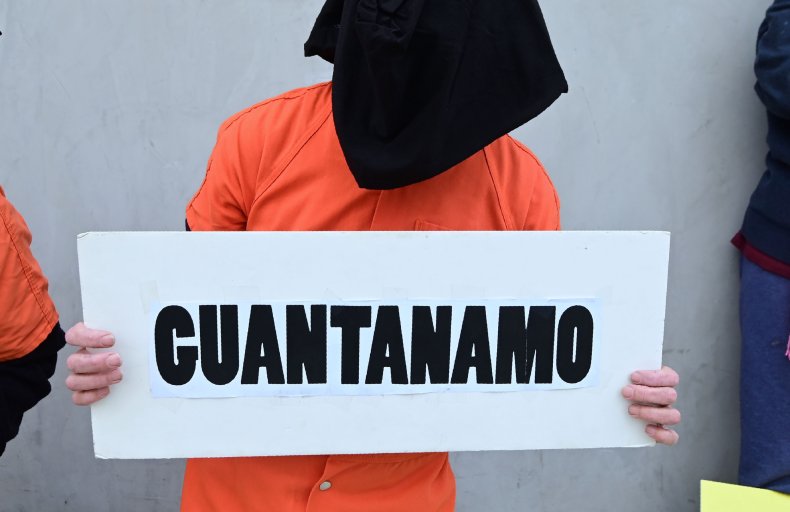 Earlier this year, more than 20 Democratic senators urged Biden to take certain steps to close the site, stating that with "sufficient political will and swift action" the president could finish what other administrations had tried to do.
"As a symbol of lawlessness and human rights abuses, the detention facility continues to harm U.S. national security by serving as a propaganda tool for America's enemies and continues to hinder counterterrorism efforts and cooperation with allies," the lawmakers wrote.
But Republicans on Capitol Hill have generally been opposed to closing Guantanamo Bay. Just one detainee was transferred during former President Donald Trump's tenure in office.
"Congress shouldn't be restricting transfers out of Guantanamo, and President Biden is right to object to any such provisions, but they aren't what's preventing him from closing the prison," Scott Roehm, Washington director of the Center for Victims of Torture, told Newsweek in an email.
Roehm continued: "The longstanding bar on certain foreign transfers applies to only four of the world's almost 200 countries. And nothing in the NDAA prevents charting a realistic path to ending the failed military commissions. Those are the two steps essential to closing Guantanamo, but save for one transfer in July, the administration hasn't made tangible progress on either. It isn't lack of authority that's obstructing closure, it's lack of priority, and political will."
Update 12/28/21, 9:00 a.m. ET: with more information and background.