Joe Biden Wants to See Studies About Feasibility of Slavery Reparations
Presumptive Democratic presidential candidate Joe Biden said Wednesday he was in favor of paying slavery reparations to African Americans and Native Americans if studies found direct cash payments to be a viable option.
Critics have questioned Biden on his refusal to commit to paying reparations, which proponents say would serve as monetary compensation for the actions of white slave owners. Monies paid would also help to bridge the wealth gap between African Americans and white people. While some have suggested paying cash directly to the descendants of African slaves, Biden said he would need to look at studies concerning the idea first.
"If, in fact, there are ways to get direct payments for reparations, I want to see it," Biden said Thursday during a virtual town hall meeting hosted on social media by the National Association for the Advancement of Colored People (NAACP). "But why are we waiting around for the study? We can deal with this stuff."
Biden took the opportunity to outline aspects of his economic platform. Among Biden's suggestions for improving the financial situation of African Americans were increasing access to the housing market and improving the educational system by using Title I schools, which have "very low tax bases in their communities."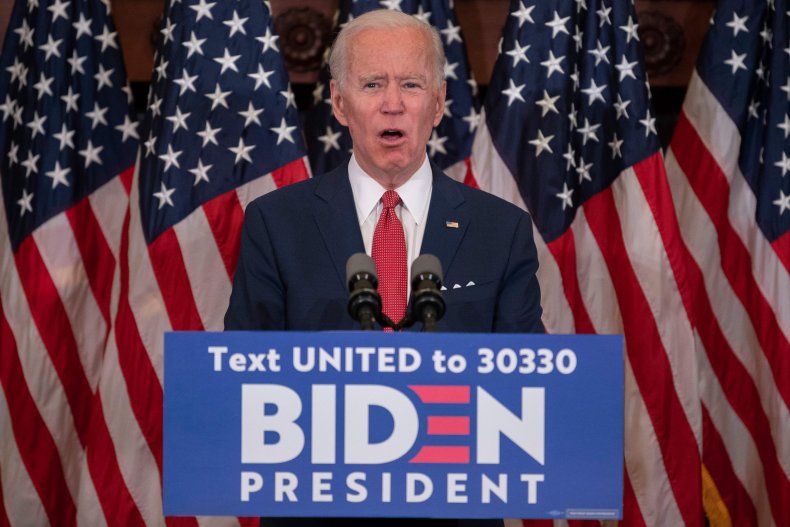 After acknowledging that his plans for educational and housing reform were not "mutually exclusive" to the concept of paying slavery reparations, Biden said "I can't believe that, whatever it is, the African American community would not support what I'm talking about in addition to fair reparations."
Biden demurred on specifically stating he was in support of reparations, saying the answer "would depend on what it was and will it include Native Americans as well."
Newsweek reached out to the National Urban League for comment. This story will be updated with any response.
Paying reparations has been a controversial topic in Washington. In 2019, a hearing on the topic was held by the House Judiciary Committee's subcommittee on the Constitution, Civil Rights and Civil Liberties. Although a bill was proposed to form a commission to study the feasibility of reparations, no action has been taken on the bill since 2019.
Co-sponsor of the bill New Jersey Senator Cory Booker said in a 2019 statement that addressing the "institutional racism and white supremacy" against African-Americans could not happen "without first fully documenting the extent of the harms of slavery and its painful legacy.'
Senate Majority Leader Mitch McConnell disagreed with the idea, saying in 2019 that "it'd be pretty hard to figure out who to compensate."
"I don't think reparations for something that happened 150 years ago for whom none of us currently living are responsible is a good idea," McConnell told reporters.