Joe Biden Warns Russia Will Face 'Swift and Severe Consequences' if Ukraine Is Attacked
President Joe Biden is once again warning Russia's Vladimir Putin not to invade Ukraine.
Biden's message came as the U.N. Security Council met Monday to discuss the crisis in a last-ditch effort to avoid armed conflict breaking out. "If Russia is sincere about addressing our respective security concerns through dialogue, the United States and our Allies and partners will continue to engage in good faith," Biden said in a statement.
"If instead Russia chooses to walk away from diplomacy and attack Ukraine, Russia will bear the responsibility, and it will face swift and severe consequences," the president said. He added that the U.S. and its foreign partners are preparing for "every scenario."
Meanwhile, the Kremlin has accused the administration of stoking "hysteria" even as Russia continues to amass troops on its border with Ukraine. The Pentagon said last week that Russia had enough military personnel and equipment built up to invade the entire Eastern European country. The buildup at the border even includes blood supplies, Reuters reported.
In his Monday statement, Biden said, "The world must be clear-eyed about the actions Russia is threatening and ready to respond to the risks those actions present to all of us. Today's Security Council meeting is a critical step in rallying the world to speak out in one voice: rejecting the use of force, calling for military de-escalation, supporting diplomacy as the best path forward, and demanding accountability from every member state to refrain from military aggression against its neighbors."
Last week, the chairman of the Joint Chiefs of Staff, Army General Mark Milley, told reporters that a Russian invasion of Ukraine would be "horrific" and result in a significant amount of casualties.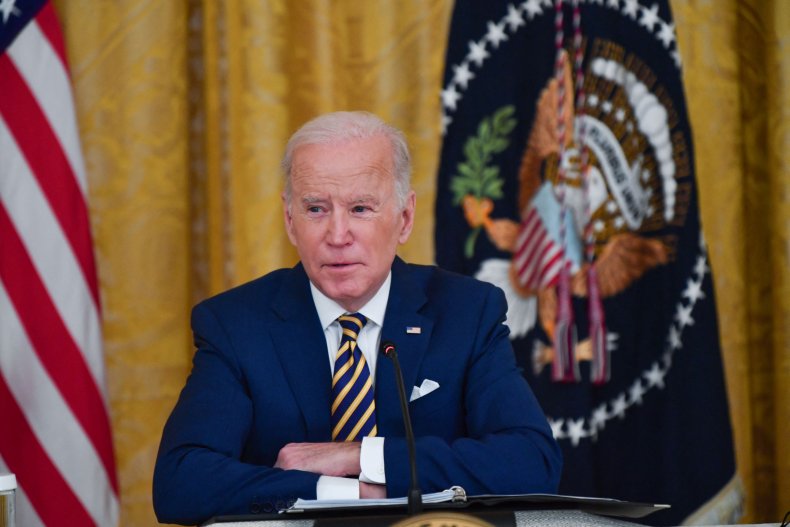 Americans in Ukraine have been advised to leave the country immediately. The White House has said it will not conduct a military-style evacuation of U.S. citizens in the nation if conflict breaks out, as was seen in Afghanistan last year.
Last week, Biden warned Ukrainian President Volodymyr Zelenskyy that an attack is a "distinct possibility" as early as next month. But Zelenskyy and other Ukrainian officials have pushed back on the threat of war.
"Because the White House understands that there are risks, they keep articulating this, they keep supporting this theme, this topic, and they make it as acute, as burning as possible," Zelenskyy said at a press conference in Kyiv. "In my opinion, this is a mistake."
Newsweek contacted Russia's Foreign Ministry for comment on Biden's Monday statement but did not hear back before publication.
Update 01/31/22, 12:25 p.m. ET: This story was updated with more information and background.