Joe Biden Was the 'Chairman' Who Ruled Out Tighter Controls for Hunter's China Business, Tony Bobulinski Claims
In an interview with Tucker Carlson on Fox News Tuesday night, Hunter Biden's former business partner Tony Bobulinski said that Democratic presidential nominee Joe Biden did not want tighter controls placed around a holding company that did business with the Chinese government.
Bobulinski has claimed to have information linking the Biden family to shady business deals in China. When some documentation was published by the New York Post in October which purported to provide evidence, many claimed the story was based on uncorroborated sources. Bobulinski said in a Thursday press conference that he had documentation and electronic devices that would implicate the Bidens.
Pseudonyms for major players in the business were allegedly used in the emails including the word "chairman," which Bobulinski claims is how Hunter Biden referred to Joe Biden. Bobulinski said he had asked for tighter financial controls to be placed around Oneida Holdings, a company set up to handle dealings between the Bidens and Chinese energy company CEFC. According to Bobulinski, Hunter Biden replied by saying that his "chairman gave an emphatic no."
"What Hunter [Biden] is referencing there is he spoke with his father," Bobulinski told Carlson, "and his father is giving an emphatic no to the ask that I had, which was putting proper governance in place around Oneida Holdings."
"That is not me writing that," Bobulinski continued. "That is not me writing that. That is Hunter Biden writing on his own phone that 'I spoke with my chairman,' referencing his father."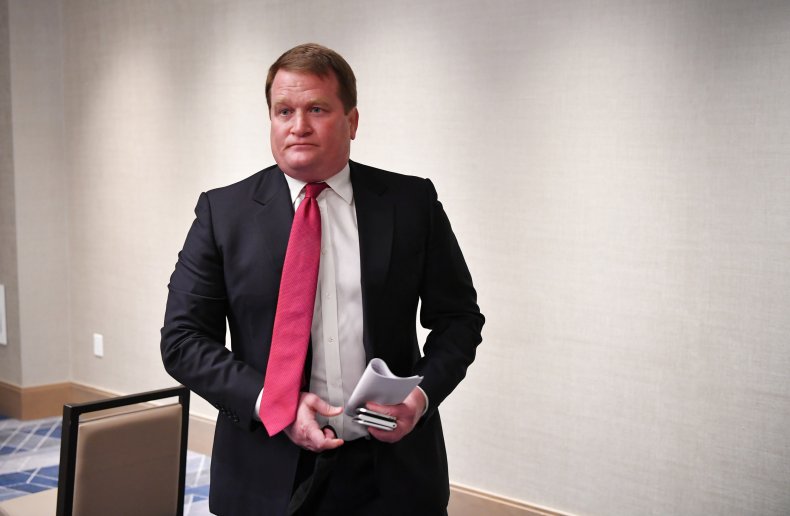 Newsweek reached out to the Biden campaign for comment.
Joe Biden denied the allegations of accepting payments from a foreign entity during the final presidential debate in October. "I have not taken a penny from any foreign source at any point in my life," Biden said, adding that Hunter Biden had "made no money from China."
News of the allegedly incriminating emails was first published in October by the New York Post using information obtained from a laptop that had been abandoned at a tech repair shop in Delaware. Although the store owner believed the computer was owned by Hunter Biden, that connection has not been confirmed. The store owner made a copy of the laptop's hard drive which was obtained by Trump's attorney, Rudolph Giuliani, who reportedly delivered the contents of the hard drive to the Post.
Bobulinski was expected to meet with a Senate committee to discuss the documentation in his possession on Friday. That discussion was postponed in order for Bobulinski to speak with the FBI.
In a Friday statement, Senate Homeland Security and Governmental Affairs Committee chairman Republican Senator Ron Johnson said that Bobulinski would "speak with our committee as soon as possible and fully share his insights into the Biden family's business dealings."
Joe Biden and prominent Democrats like Rep. Adam Schiff of California have called the reporting on the laptop allegedly belonging to Hunter Biden "Russian disinformation." Bobulinski disputes that claim, and told Carlson he came forward to clear his name.
"I was hoping the Bidens would do the right thing, or Schiff would retract his statement, but I could not allow another minute, another hour or day for my family's name to be associated or muddied up around Russian disinformation. So even as I sit here today, I would ask the Biden family to come on record and stop using my name, or associating it with Russian disinformation. It's absolutely disgusting," Bobulinski said.