Joe Biden Holds Wide Leads in Three Key Battleground States: Poll
Joe Biden holds double-digit leads over President Donald Trump in two key swing states with less than a week to go until election day, new polling data has found.
The latest survey data from SurveyMonkey and Axios also revealed Biden is 9 points ahead of Trump in a third battleground state, signaling the Democratic nominee has a strong chance of winning the electoral college on November 3.
According to the pollster's candidate preference tracker, Biden led Trump by 12 percentage points in the neighboring states of Minnesota and Wisconsin. The former vice president picked up 55 percent support among likely voters in the two states, while Trump was backed by 43 percent.
In the nearby state of Michigan, Trump was found to trail Biden by 9 points with 44 percent of the vote—a projected fall of 3 percentage points on his winning 2016 tally.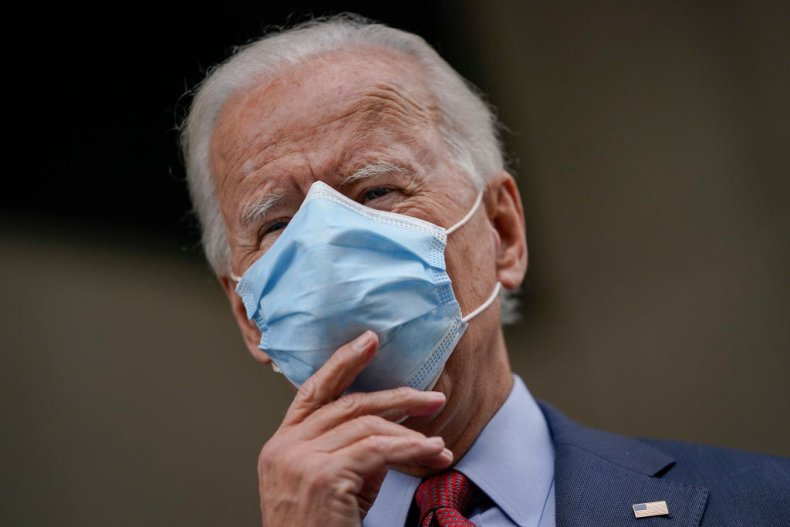 The latest battleground state tracker polls from SurveyMonkey and Axios were based on surveys of thousands of likely voters between September 30 and October 27. It is unclear what the margin of error is for each state-level poll.
FiveThirtyEight poll aggregators have awarded SurveyMonkey a "D-" pollster rating for its national tracker survey.
President Trump won Michigan and Wisconsin by margins of less than 1 percentage point during his 2016 race against then-Democratic nominee Hillary Clinton, and trailed her by just 1.5 points in Minnesota. The states carried a combined 36 electoral college votes, helping to carry Trump over the all-important 270 line.
The results of the latest Axios tracker poll from the swing states align with other battleground surveys. One Ipsos survey of Michigan released on Monday found that Biden led Trump by 9 points, with 52 percent of voters backing the Democrat.
Another poll from Gravis Marketing released on Monday showed the former vice president was 14 points ahead of Trump in Minnesota, while a Wisconsin poll from ABC News and The Washington Post showed Biden with a staggering 17-point lead over the president among likely voters in Wisconsin.
At the national level, the Democratic nominee is 9 points ahead of Trump with a little under 52 percent of voters opting for the ex-vice president on average, while roughly 43 percent back Trump, according to the FiveThirtyEight tracker.
The SurveyMonkey tracker poll's national 3-day rolling average puts Biden just 4 points ahead of Trump with 51 percent of the vote.