Joe Biden Will Sign 2 Executive Orders on Economy Friday—Here's What They Are
President Joe Biden will sign two more executive orders on Friday—the latest in a raft of actions he's taken with just the stroke of his pen since taking office on Wednesday.
"The American people can't afford to wait—so many are hanging by a thread, and they need help," Biden's top economic adviser Brian Deese told Newsweek and other reporters in a preview of the anticipated orders. "We are committed to doing everything we can to provide that help with this quickly as possible."
One will direct federal agencies to extend various forms of emergency relief, as possible with existing authority. The second will increase pay and provide additional protections for federal workers and contractors.
Deese said both are intended to be temporary, urgent relief responses to the coronavirus pandemic that has killed more than 405,000 people in the United States and created an economic tailspin for millions of others.
"These actions are concrete and will provide immediate support to hard hit families," Deese said of the orders Biden will sign Friday afternoon. "They are not enough and they and and much, much more is needed."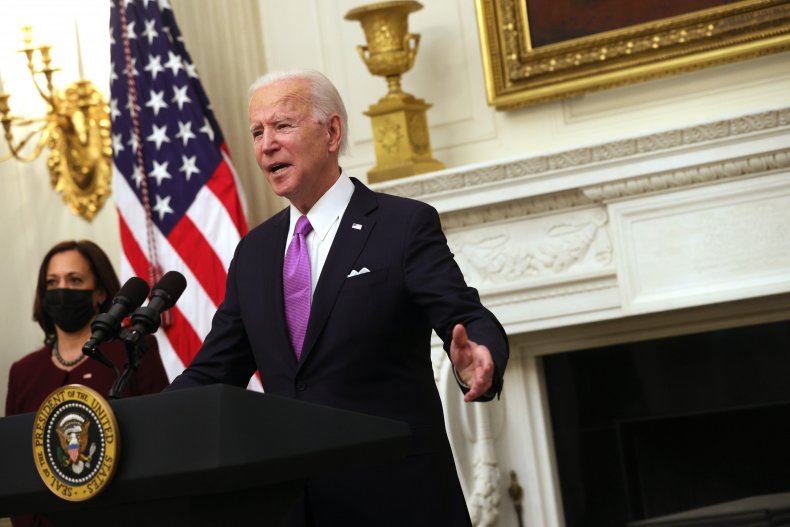 Biden is additionally pushing a $1.9 trillion COVID-19 relief package that would require approval from Congress, but it's unclear how quickly lawmakers will be able to hash out a final negotiation and get the legislation to Biden's desk.
The two orders Friday come on top of more than two dozen other executive directives that Biden signed in his first 24-hours in office. Many of them are meant to address the coronavirus pandemic or undo actions taken during the Trump administration. Biden signed orders to re-enter the Paris Climate Accord, a multi-country effort to address climate change; stop construction of the Southern U.S. border wall; and revoke the permit for the Keystone XL pipeline, among other moves.
Here's what the two economy-focused orders will do, based on previews and summaries provided before the bill signing:
COVID Economic Relief Executive Order
Biden will direct the U.S. Department of Agriculture to expand emergency food assistance programs. That would include an increase in household food stamps benefits to aid millions suffering from food insecurity. There was a temporary small increase as schools shuttered because of the coronavirus last year, but critics have said it wasn't enough to cover the free school breakfast and lunch that children would otherwise get. Biden's order also recommends reevaluating the overall structure of how it determines normal food stamps benefits.
"It doesn't reflect the economic realities that most struggling households face what when they're trying to either buy or prepare healthy food," Deese said.
For the Treasury Department, Biden's order would instruct it to review why an estimated 8 million people have not gotten past stimulus payments and how it can be resolved, and Biden plans to instruct the Department of Labor to designate that people who refuse to work because of unsafe conditions can still qualify for unemployment insurance.
Protecting And Empowering Federal Workers And Contractors
Biden has pledged to support an increase in the federal minimum wage from the $7.25 rate set more than a decade ago. His executive order on Friday will start that effort with federal workers and employees working on federal contracts.
Under the order, federal contracts will include a requirement that contractors pay their workers at least $15 an hour and provide emergency paid leave to workers.
Within the federal government itself, all agencies will be instructed to review their pay scales and develop plans to get all workers at least to $15 an hour if they are paid less than that currently.
"These steps are designed to help ensure the federal government is a model employer ... and to make sure that when we are using taxpayer dollars, through federal contracts, that we are directing that to employers who give their workers the pay and benefits they've earned," Deese said.