Minnesota Voters Go for Joe Biden After Klobuchar Endorsement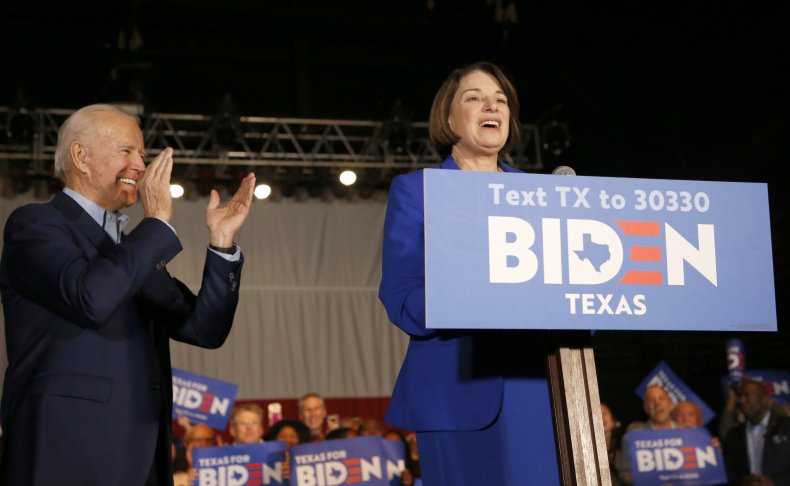 Former Vice President Joe Biden appears to have pulled off an unlikely victory in Senator Amy Klobuchar's home state of Minnesota after her exit from the race and endorsement in recent days.
Biden bested Senator Bernie Sanders, according to projections by The Associated Press during the Super Tuesday primary election. The win marked Biden's remarkable turnaround after the South Carolina primary last week. Senator Elizabeth Warren looked set to grab third place while Klobuchar, despite dropping out, still made a modest showing.
Klobuchar had been expected to win state, but her weak showing after South Carolina and dwindling coffers pushed her to leave the race and back Biden instead.
Her supporters may have found similarities with Biden. Exit polls from the New Hampshire primary, where Klobuchar surged to a third-place finish, indicated that voters who identified themselves as moderate were the largest group of supporters for both candidates.
Klobuchar voters tended to be older, which is a group that has also Biden done well with. Older voters also tend to be more moderate than younger ones. Klobuchar's supporters were also college educated, a group that the race's runner-up Sanders has been less successful in courting.
Klobuchar and former South Bend, Indiana Mayor, Pete Buttigieg both endorsed Biden at a campaign event in Texas on Monday. The move was viewed by many as an attempt to halt the rise of Sanders by consolidating the moderate vote. Former candidate Beto O'Rourke, who dropped out early in the race, also endorsed Biden.
"An incredibly joyful moment last night in Dallas when I announced my support for @JoeBiden. I know he can win, and win big. He has the decency and heart to lead this country, and that's exactly what we need right now," Klobuchar tweeted Tuesday.
Tuesday's early results indicated Biden is experiencing a clear resurgence, vaulting back into frontrunner status after a string of disappointing results early in the nominating season left his candidacy seemingly in ruins. Sanders appeared to be slipping somewhat— although he maintained a considerable amount of support, he no longer was enjoying the commanding lead he had only days earlier.
Super Tuesday contests offered the largest number of pledged delegates available on a single day, 1,397. Minnesota offered 75 delegates, with a total of 1,991 needed for a candidate clinch the nomination. Candidates who meet a threshold of 15 percent of the vote receive a share of delegates in Democratic contests.
Six more states are set to vote in the next nominating contests on March 10.
Minnesota Voters Go for Joe Biden After Klobuchar Endorsement | News