Joe Biden Told He Must Travel by Bus to Queen Elizabeth II's Funeral
President Joe Biden and other world leaders attending Queen Elizabeth II's funeral have been told they must travel together by bus for the service in Westminster Abbey, London.
Britain's longest-reigning monarch died aged 96 at Balmoral Castle in Scotland on Thursday, and her state funeral will be held on September 19.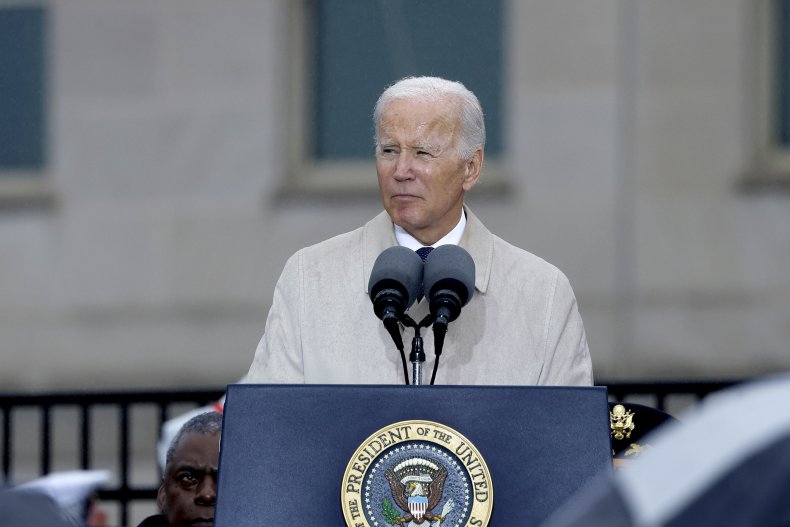 Official documents, first reported by U.S. media outlet Politico, set out the rules as the U.K. prepares to accommodate the huge number of dignitaries arriving from abroad for the service.
The guidance from the Foreign, Commonwealth and Development Office (FCDO) urges world leaders to arrive in the U.K. on commercial flights "where possible."
London's Heathrow Airport will not be available for those arriving on private jets, so leaders arriving on such flights should go to airports around the city that are less busy, the FCDO said. The use of helicopters by the dignitaries to get around the English capital has been banned, it added.
On the day of the funeral, the leaders and their partners will travel to Westminster Abbey on escorted coaches from a site in West London. They will be required to leave their own cars there "because of tight security and road restrictions," according to the guidance.
After the service, leaders and dignitaries will be escorted on foot to Dean's Yard, within the abbey's grounds, for a reception hosted by U.K. Foreign Secretary James Cleverly. They will then return by coach to West London to collect their cars.
The rules are likely to pose a logistical and security challenge for Biden, who said Friday that he would attend the queen's funeral.
According to the guidance, King Charles III will host a reception for all leaders at Buckingham Palace Sunday evening before the funeral.
The guidance also said it will not be possible for more than one senior representative per country, along with their spouse, to attend the funeral.
The department said it "regrets that, because of limited space at the state funeral service and associated events, no other members of the principal guest's family, staff or entourage may be admitted."
Biden has formally accepted an invitation to attend, the White House said Sunday, and will be accompanied by first lady Jill Biden.
Earlier on Sunday, Biden remembered the message the queen had sent to the United States after the September 11, 2001, attacks.
"Grief is the price we pay for love," Biden said, quoting part of her message during a speech on the 21st anniversary of the attacks.
Biden and the first lady paid tribute to Queen Elizabeth II after her death, describing her as a "stateswoman of unmatched dignity and constancy who deepened the bedrock alliance between the United Kingdom and the United States."
Newsweek has contacted the White House and United States Secret Service for comment.