Joe Biden Would Beat Donald Trump in the General Election, Polling Shows
Presumptive Democratic presidential nominee Joe Biden would beat President Donald Trump in the general election if it were held today, new polling has shown.
An average of recent national surveys compiled by Real Clear Politics showed Biden, who served as vice president under former President Barack Obama, ahead of Trump by an average of nearly 6 points. Overall, Biden is backed by an average of 48.3 percent of voters while the president is supported by just 42.4 percent.
Meanwhile, Biden also leads Trump in the battleground states of Wisconsin, Florida, Michigan, Pennsylvania and Arizona. Trump still appears to have a slim advantage in North Carolina, but the most recent poll conducted in the state actually showed Biden ahead by 1 point as well.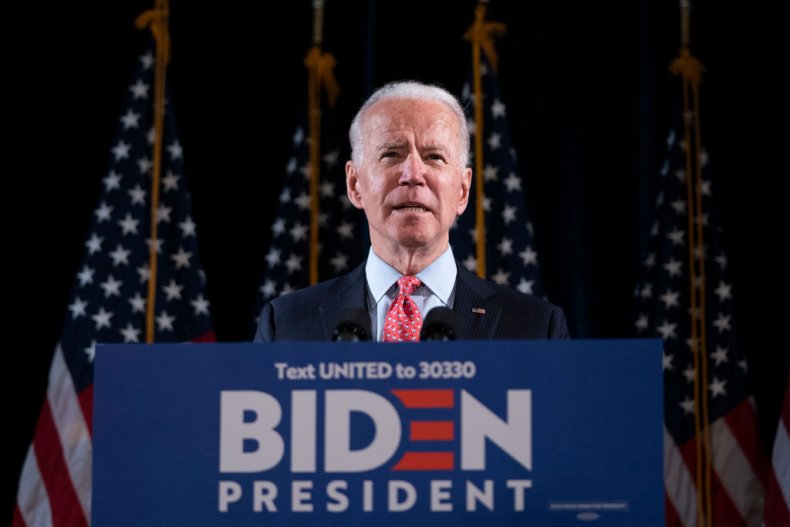 In Wisconsin, Biden is ahead by an average of 2.7 points, while he leads by 3.2 percent in Florida. The former vice president has a more comfortable lead in Pennsylvania, where he is ahead by an average of 6.7 percent. Even in Arizona, which has voted for the Republican presidential candidate in every general election since 2000, Biden leads Trump by an average 4.4 points. Meanwhile, Biden is ahead by about 5.5 points in Michigan.
Trump beat his former Democratic rival Hillary Clinton in 2016 by polling off a series of victories in key battleground states, several of which had gone blue for Obama in 2008 and 2012. While Trump won big in the Electoral College, Clinton actually garnered about 3 million more votes than her GOP opponent. The president pulled ahead in swing states by narrow margins of less than 1 percent in several contests.
Whether Biden can maintain the momentum until November remains to be seen. Ahead of the 2016 election, Clinton was at one point leading Trump in multiple national polls by more than 20 points. But as the coronavirus pandemic continues to take its toll on peoples' health and the economy, many analysts believe the 2020 election will come down to how voters perceive the president's response to the crisis.
Americans appear split on whether they approve or disapprove of Trump's response to the pandemic. An average of polls compiled by Real Clear Politics shows that about 50.1 percent disapprove of Trump's handling of the crisis, while 47.3 percent approve. However, some recent surveys suggest that a slim majority of Americans approve of the president's response to the coronavirus.
A poll released last week by The Hill and HarrisX showed that 51 percent of respondents approved of Trump's handling of the crisis, while just 49 percent disapproved. Similarly, a poll conducted by CNBC earlier in April showed that 50 percent of respondents approved, while just 45 percent disapproved.