Former Vice President Joe Biden plans to eliminate the waiting list for Medicaid recipients seeking long-term care if elected president.
The proposal is part of Biden's larger caregiving plan dubbed the "21st Century Caregiving and Education Workforce" plan, which addresses needs for children, the elderly and caregivers. Biden promised to end long wait times for elderly or disabled people seeking care while speaking during a speech in New Castle, Delaware on Tuesday.
"Right now, there are 800,000 people who are eligible for home and community care through Medicaid, who have already signed up for it, but they're waiting for a phone call" Biden said. "For some, the wait is five years... my plan makes a bold investment so states can clear the waiting list."
Biden added that the plan would also fund programs to provide transportation to appointments, meals, day programs and increased home safety for seniors.
Biden said that the COVID-19 pandemic had placed additional strain on caregivers, with many having unexpectedly been forced to become caregivers.
"Even before the pandemic, millions of working families were face with enormous financial and personal strains, trying to raise their kids and care for their parents or loved ones living with disabilities," Biden said. "It's really, really hard. Families are squeezed emotionally and financially. They need help. Too often they can't afford it."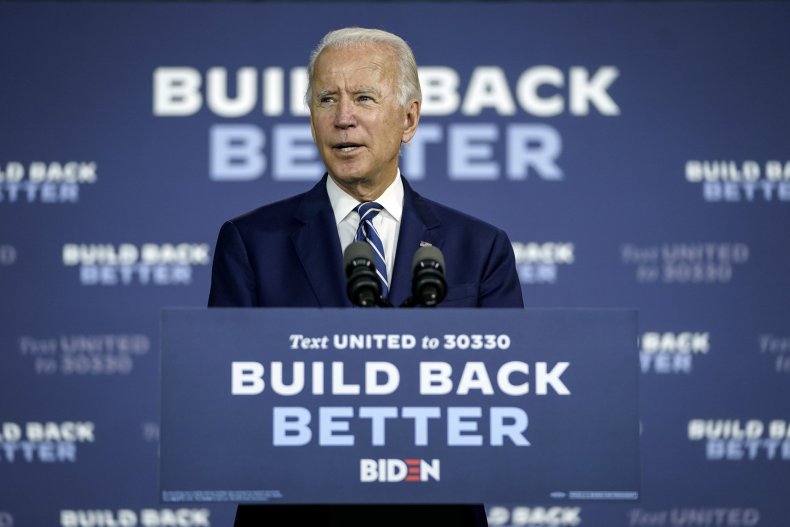 Biden also highlighted expanded care for children, with the proposal focusing on children under the age of 5. The plan offers universal preschool for children aged 3 to 4, funded through "investment, expanded tax credits, and sliding-scale subsidies."
The plan would also expand access to other types of child care and provide funding to build additional child care facilities. In addition, it would offer an $8,000 tax credit to help low income and middle-class families pay for care, with the option of using a sliding scale to pay for care instead.
While speaking about the difficulties single parents face in raising their children, he recalled the 1972 car crash that resulted in the death of his wife and young daughter.
"I was a single parent for five years after my wife and daughter were killed and my two boys were badly injured," Biden said. "Even though I had a lot more support than a lot of people going through tough times today, it was hard."
"If I didn't have my mom, my sister, my brother, I don't know how I would have been able to afford it," he added.
The plan also promises to improve compensation and career paths for professional caregivers, who Biden noted are often underpaid and disproportionately women, immigrants and people of color. It would add 150,000 additional community health workers.
Biden's plan is one of several economic proposals Biden has been unveiling under the "Build Back Better" banner, with other announced proposals focusing on jobs and climate change.
It would cost an estimated $775 billion over 10 years, with the elder care portion of the proposal costing around $450 billion over 10 years. The campaign says it would be paid for "by rolling back unproductive and unequal tax breaks for real estate investors with incomes over $400,000 and taking steps to increase tax compliance for high-income earners."