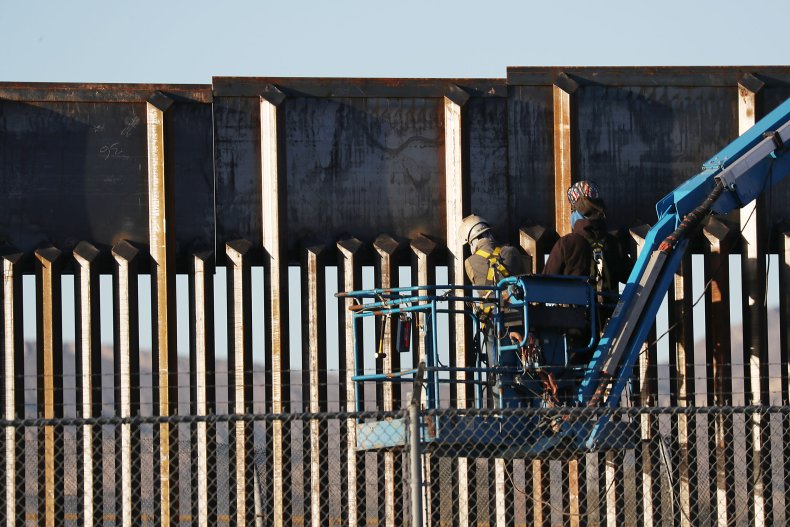 U.S. Army Corps of Engineers estimates reportedly show that President-elect Joe Biden ending construction on President Donald Trump's border security wall could save American taxpayers $2.6 billion.
The estimated savings are based on Biden fulfilling his pledge to stop building the wall immediately upon taking office, according to a Wednesday report from The Washington Post. As of December 7, contractors have built 423 miles of the wall, a key Trump 2016 campaign promise, according to U.S. Customs and Border Protection (CBP).
Army Corps spokeswoman Raini Brunson told the Post that commanders met with Biden's transition team last week to discuss the wall, while declining to "speculate on what the final cost estimates for undelivered work" would be or what actions the Biden administration "may or may not take."
Although Trump initially promised that Mexico would "pay for" the wall, CBP estimates that the Trump administration secured a total of $15 billion in U.S. funds for the project, enough to build 738 miles of wall.
The Army Corps estimates that $3.3 billion of the total will be unused when Trump leaves office, with the $2.6 billion figure remaining because companies are likely to charge $700 million in "demobilization" fees when the project is terminated.
While some activists have suggested that Biden should consider tearing the wall down, the president-elect has only vowed to halt further construction while maintaining that he will continue to address security concerns along the southern border using alternate methods.
"There will not be another foot of wall constructed on my administration," Biden told reporters in August. "I'm going to make sure that we have border protection, but it's going to be based on making sure that we use high-tech capacity to deal with it. And at the ports of entry — that's where all the bad stuff is happening."
Acting CBP Commissioner Mark Morgan insisted that ending wall construction would be a "waste of taxpayer money" that would amount to "probably billions of dollars" when speaking to reporters earlier this week.
"There has been talk about quote 'not building another foot of wall.' I want to talk about the reality, not the political reality, but the substantive impact, of stopping construction," Morgan said. "Let's consider the cost directly to American taxpayers when we walk away, which will probably be billions of dollars that have already been invested and assigned to a contract."
Biden has not publicly released details of his plans for the wall since being elected last month, but Trump administration officials like Morgan are likely to have little say in the matter once the president-elect enters the White House on January 20.
Newsweek reached out to the Biden presidential transition team and the White House for comment.