Video Shows Moment Joe Biden Meets China's Xi for First Time as President
Joe Biden has shaken hands with Chinese counterpart Xi Jinping for the first time since becoming U.S. president ahead of crunch talks in Asia.
Biden and Xi are among the heads of state attending the G20 summit in Bali, Indonesia, from November 15 to 16. Having met multiple times as vice presidents of their respective countries, their meeting on the sidelines of the event is their first in person as leaders.
Footage showed the two presidents greeting one another in front of the international press and posing for photographs inside a conference room before sitting down across from each other with large entourages of interpreters and senior advisers.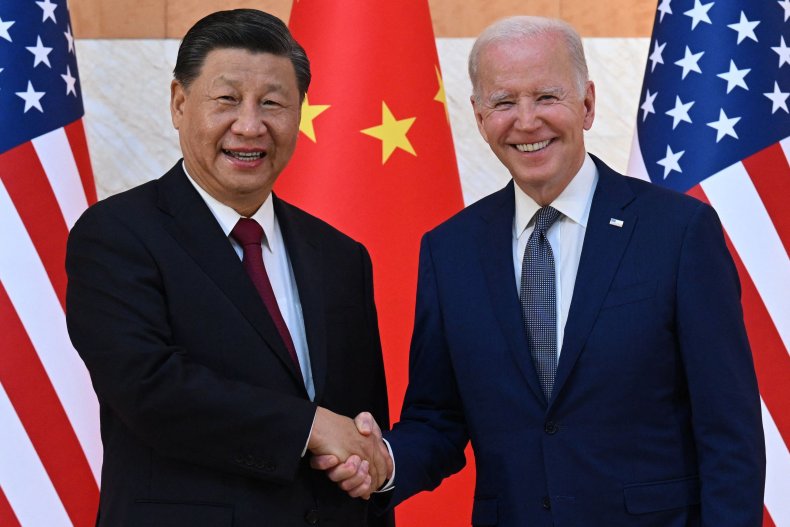 The United States and China are engaged in a high-stakes competition for global leadership and remain at odds over myriad issues. These include bilateral trade, conflicting positions on the war in Ukraine, and Beijing's opposition to Washington's support for Taiwan's defense preparations in the face of increasing Chinese pressure on the self-governing island that Beijing claims as part of China.
In brief opening remarks ahead of what was expected to be an hours-long meeting, Biden recalled his last meeting with China's president five years ago at the World Economic Forum in Davos.
The U.S. and China have a "responsibility" to show the world that the two countries can "manage our differences," Biden said. Xi responded by saying he anticipated a "candid and in-depth exchange of views," with his American counterpart.
Both men arrived at the Indonesian resort having bolstered their respective domestic political positions.
Biden's Democrats have emerged from the midterm election largely intact, having kept control of the Senate amid a widely expected "red wave" that never materialized. The battle to control the House of Representatives remains a toss-up.
Meanwhile, China's Xi, who traveled abroad for the first time this fall after more than two years of isolation during the COVID-19 pandemic, secured an unprecedented third five-year term as leader last month, installing loyalists and demoting rivals.
Washington and Beijing have both signaled their desire to curb geopolitical tensions despite recent fallouts and public admissions—at least from the U.S. side—that no meaningful progress would be made at Monday's talks.
Biden previewed the all-important meeting by saying he and Xi would establish each other's "red lines."
"We have very little misunderstanding," he told reporters in Phnom Penh, Cambodia, where he took part in the annual East Asia Summit on Sunday.
"We just got to figure out where the red lines are and...what are the most important things to each of us going into the next two years," he said.
Jake Sullivan, the president's national security adviser, told an Air Force One press gaggle en route to Asia that Biden would tell Xi the U.S. was "prepared for stiff competition with China but does not seek conflict, does not seek confrontation."
Biden wanted to ensure that both countries "operate according to a set of well-established, agreed rules, including on freedom of navigation, on a level playing field for economics, and on refraining from the use of intimidation or coercion or aggression," Sullivan said.
Xi would likely carry a similar message. China's president, while recognizing the U.S. as a trading partner of major import, increasingly views Washington's strategic decisions as an attempt to contain the country's economic development, despite the White House's statements to the contrary.
Among other topics, the leaders were expected to discuss the Biden administration's move in October to cut off China from high-end semiconductor technology on national security grounds.
Updated 11/14/22, 5:50 a.m. EST: This article was updated with more context.