President Joe Biden's sweeping new $1.9 trillion stimulus plan has fallen flat with two moderate Senate Republicans who have expressed reluctance to prioritizing pandemic relief just one month after the last legislation was passed.
After Biden's inauguration on Wednesday, Senators Lisa Murkowski of Alaska and Mitt Romney of Utah both indicated that it may be too soon to pass another stimulus package.
"We just passed a program with over $900 billion in it," Romney said, according to Bloomberg. "I'm not looking for a new program in the immediate future."
"The ink is just barely dry on the $900 billion, and what the president is proposing is significant—$1.9 trillion," Murkowski said. "It's going to require, I think, a fair amount of debate and consideration."
It is unclear whether Biden will need any support from Republican senators for the bill to pass in Congress. Georgia Democrats Jon Ossoff and Raphael Warnock were sworn into the Senate on Wednesday, officially securing the party a 50-50 split in the upper chamber. Senator Chuck Schumer will now be the Senate Majority Leader and Vice President Kamala Harris will have the deciding vote.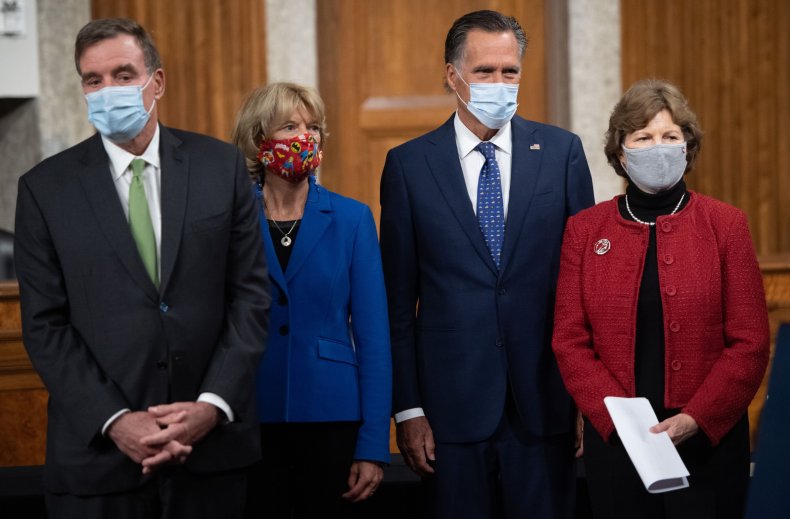 With the slim margin of control, the party would need support from every Senate Democrat to push through the measure without GOP support.
Democratic Senator Joe Manchin of West Virginia had opposed the third stimulus check of $1,400, included in Biden's proposal, earlier this month. On January 8, he told the Washington Post "absolutely not" to the untargeted direct payments. But on Tuesday, as he faced mounting backlash online, Manchin softened his tone and expressed support for getting "more money out."
However, Manchin declined to disclose how he would vote when asked by CNN's Jake Tapper this month. Recently, he told reporters that Biden and members of the Senate will meet soon—"probably this weekend"—to discuss the relief proposal.
Republicans are also expected to be on the call. Republican Senator Susan Collins of Maine said there will likely be a "meeting with one of the new president's economic advisers within a week."
Biden unveiled the $1.9 trillion economic and coronavirus relief package during a public address last Thursday. "The need is immediate and the urgency is increasing," a Biden senior official told Newsweek and other reporters. "He believes we need to take decisive action to give American people some direct relief, to get our hands around this virus and put our economy on a positive trajectory."
The plan includes $1,400 stimulus checks; $160 billion in additional funding for an aggressive national vaccination program; $240 billion in additional efforts to address the pandemic; raising the minimum wage to $15 an hour; extending the eviction and foreclosure moratoriums through September 30; and increasing federal unemployment payments from $300 a month to $400.
Newsweek reached out to Senate Majority Leader Chuck Schumer for comment.