Joe Biden's Afghanistan Actions Might Have Lost America's Closest Ally
U.S. President Joe Biden's handling of the war in Afghanistan may have lost America its closest ally, after two former British prime ministers and several lawmakers railed against the president's quick withdrawal of troops.
In an interview with Newsweek, Professor Malcolm Chalmers, deputy director-general of the Royal United Services Institute (RUSI) think tank, said that as part of the so-called "special relationship" with the U.S., British leaders had been expected to be consulted about the withdrawal of troops from Afghanistan. But he said that the U.S. not keeping its closest ally abreast of the situation had direct consequences for British and other allied forces on the ground there.
"There had been a palpable sense of relief at President Biden's victory, and all his warm words about allies and international cooperation. The withdrawal has punctured common illusions on the extent of Britain's military dependence on the United States," Chalmers said.
"The dependence is nothing new. Even the UK's nuclear force has relied on American support since the 1960s. But British leaders had convinced themselves that they had real influence in successive wars in the Balkans, Iraq and Afghanistan. Now the reality of dependence without influence has been exposed," he added.
Chalmers said the crisis has left Britain with very few other partnership options if it wanted to go to war without the U.S.
"One of the consequences could be that the UK government will take European defense cooperation more seriously than it has for many years. This could be one of the few positive side-effects from this sorry debacle," Chalmers said.
Biden has also been heavily criticized by many British lawmakers across party lines. In a lengthy essay posted on his website on Saturday, former British Prime Minister Tony Blair slammed Biden's hasty withdrawal, calling it "imbecilic."
"The abandonment of Afghanistan and its people is tragic, dangerous, unnecessary, not in their interests and not in ours," Blair wrote.
"The world is now uncertain of where the West stands because it is so obvious that the decision to withdraw from Afghanistan in this way was driven not by grand strategy but by politics," he added.
Blair, who sent British troops to Afghanistan with the U.S. in 2001, accused Biden of pulling out "with little or no consultation" with his closest ally.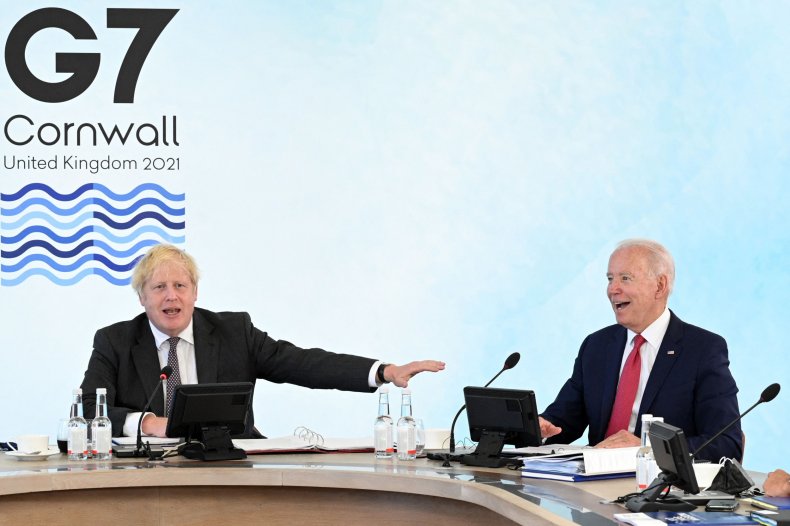 "We chose to do it. We did it in obedience to an imbecilic political slogan about ending 'the forever wars'," Blair wrote, referring to the claim Biden made about Afghanistan in April, when he first announced the withdrawal of U.S. forces.
The same weekend Blair made those comments, there were reports of violence and chaos at Kabul's international airport leading to the deaths of seven Afghans as they were trying to flee the country. There were also reports of Britons and Americans being brutally beaten by the Taliban.
On August 19, former Conservative Prime Minister Theresa May asked Prime Minister Boris Johnson in the House of Commons how Britain could have miscalculated the strength of the Taliban, which took Kabul on August 15 in a lightning offensive.
"Was our understanding of the Afghan government so weak? Was our knowledge of the position on the ground so inadequate?" May asked her successor. "Or did we just feel that we have to follow the United States and hope that, on a wing and a prayer, it would be all right on the night?"
A UK government minister, speaking on condition of anonymity, told The Times newspaper on August 21 that the way the U.S. withdrawal was carried out "just signaled to the world that they are not that keen on playing a global role."
"The US had to be dragged kicking and screaming into the First World War. They turned up late for the Second World War and now they are cutting and running in Afghanistan," the minister said.
Tom Tugendhat, a Conservative lawmaker and chairman of parliament's Foreign Affairs Select Committee who himself served in Afghanistan, told the chamber he felt anger and grief.
"To see (Biden) call into question the courage of men I fought with, to claim that they ran, is shameful. Those who have never fought for the colors they fly should be careful about criticizing those who have," he said.
Leader of the opposition Labour party Keir Starmer said on August 17 before that he was "very concerned" with Biden's speech on Afghanistan withdrawal the day before, and that Afghan troops should not be blamed for the Taliban returning to power.
Newsweek has contacted the White House for comment.
British Prime Minister Boris Johnson is due to hold crisis talks on Afghanistan with world leaders, including Biden, on Tuesday, where they will discuss evacuation arrangements and a longer-term approach to the central Asian country. The British press have reported that Johnson will reportedly lobby Biden to extend the deadline to withdraw troops from the country from August 31, to allow more time for evacuations. However, the Taliban has said the U.S. "will provoke a reaction" if it extends the deadline.