President Joe Biden's approval rating among Black Americans has fallen significantly during his presidency, according to new data.
Navigator Research, a Democratic-oriented group, discovered Biden's favorability among the demographic fell 10 points over the course of 2021. The president went from 86 percent of Black Americans approving of him to 76 percent.
The findings, which were released on the third day of Black History Month, come as Biden experiences widespread polling issues and a stalled agenda. Voting rights legislation and the Build Back Better plan—two issues that have a lot of support from the Black community—have hit major roadblocks in Congress.
Black voters were instrumental to Biden's success in the 2020 presidential election, voting 92 percent to 8 percent for the then-Democratic candidate. Black Americans were also crucial to Biden's success in swing states like Georgia, Michigan and Pennsylvania.
The decrease in Biden's job approval among Black Americans was even more pronounced among younger people. His favorability among those under the age of 35 fell from 88 percent at the start of his presidency to 63 percent by the end of last year.
Navigator Research also conducted three online focus groups with Black Americans from Michigan, Georgia and Texas. When asked to rate Biden on a scale from 'A' to 'F,' no one gave him a failing mark—but he also didn't receive an 'A' grade.
"I think he's a 'C' because there's a lot of things he promised," one woman from Georgia said. "And I feel like Trump had more of an impact, even though I did not like Trump as President. But he had more of an impact than Biden has done for the past few months."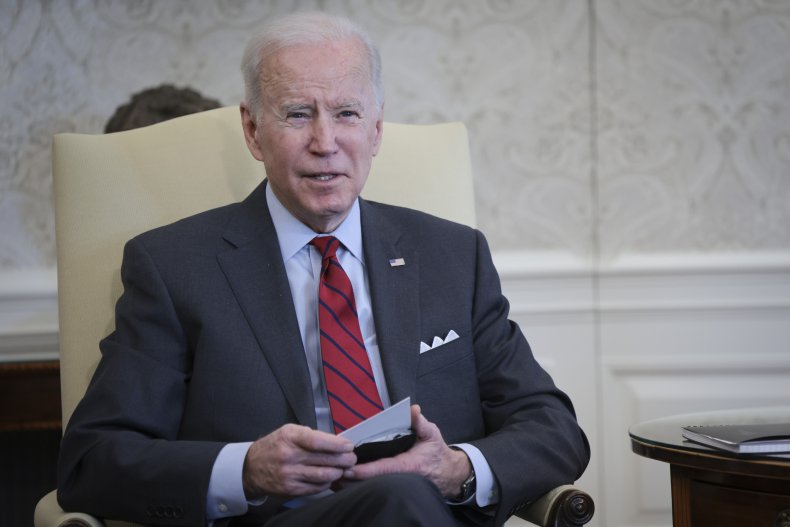 Polling data gathered by Navigator Research showed Black Americans overwhelmingly support Biden's economic agenda and new voting rights legislation. Both issues received support from roughly three-quarters of respondents.
But the legislative issues appear to be on pause after collapsing in the Senate. Last month, Democrats in the chamber failed to push through the Freedom to Vote Act and the John Lewis Voting Rights Advancement Act. Biden had even given approval to alter the 60-vote filibuster to get the bills passed. However, the filibuster changes were not supported by Joe Manchin or Kyrsten Sinema, who are both Democratic senators.
Then this week, Manchin announced that Build Back Better is "dead" after months of negotiation on the $1.75 trillion social safety net package.
One Michigan man from the focus groups said Biden "needs to get on the Senate. He needs to get on Manchin and Sinema and get whatever he's trying to get done. He needs to get it passed."
Newsweek reached out to the White House for comment but didn't receive a response before publication.