Joe Biden's Approval Rating on COVID Pandemic 18 Points Higher Than Trump's Best: Poll
President Joe Biden has started his presidency with a higher approval rating on the coronavirus pandemic than his White House predecessor ever achieved, according to the latest NPR/PBS NewsHour/Marist poll.
The survey, conducted between March 6 and 8, found that 62 percent of Americans approve of how Biden is handling the pandemic. That's 18 points higher than former President Donald Trump's best rating in the poll, in which he earned 44 percent approval in March and April last year.
By the time he left office in January, Trump's approval rating on the coronavirus had dropped to 39 percent.
Biden enjoyed the most support from Democrats, 91 percent of whom approved of his job dealing with the health crisis. Sixty percent of independents also viewed his response to the national epidemic positively.
But he also got some support from Republican voters, as 30 percent approved of his handling of the virus. Twenty-two percent of respondents who voted for Trump in the 2020 election also gave Biden their approval on his coronavirus response.
The findings come with the passage of Biden' $1.9 trillion coronavirus relief package. His American Rescue Plan will provide $1,400 direct cash payments, $300 per week in jobless benefits through September, a child tax credit of up to $3,600, $350 billion in state and local governmental aid, $170 billion for school reopenings and $14 billion for coronavirus vaccine distribution, among other measures.
The president signed the relief package into law on Thursday, one day after the House of Representatives approved the final version of the sprawling 800-page bill.
"This historic legislation is about rebuilding the backbone of this country and giving people in this nation, working people, middle-class folks, people who built the country, a fighting chance," Biden said in the Oval Office on Thursday. "That's what the essence of it is."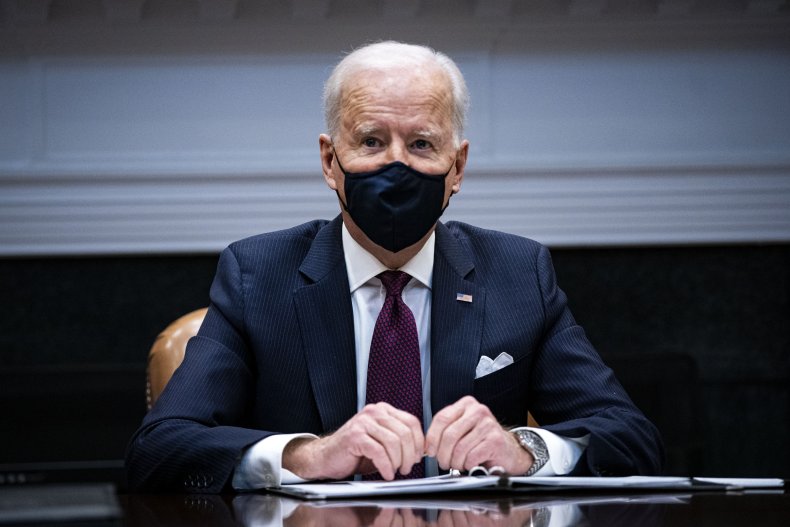 White House press secretary Jen Psaki told reporters during Thursday's White House briefing that Americans will start seeing stimulus checks in their bank accounts as early as this weekend.
The American Rescue Plan also enjoyed high public support—a fact touted by the
White House and Democrats during negotiations on the bill. Most Americans (37 percent) said in the poll that the bill is about right, while 34 percent said it went too far and 21 percent said it didn't go far enough.
The NPR/PBS NewsHour/Marist poll surveyed 1,227 adults and has a margin of error of 3.4 percentage points.