Joe Biden's Approval Rating Sinks to New Low, Falling 14 Percent Since He Entered Office
President Joe Biden's approval rating has hit a new low, according to a tracker from Gallup.
In a poll conducted earlier this month, Gallup found just 43 percent of U.S. adults approved of his job as commander-in-chief. For the first time, a majority of Americans—53 percent—disapproved of Biden's performance.
Biden's approval rating has dropped 14 percent since he took office in January. Gallup found that the Democrat was starting his presidency with a 57 percent approval rating, which was just below the average of 60 percent approval rating for post-World War II presidents in their first term.
Biden enjoyed a far higher rating than his predecessor Donald Trump, who started his tenure in office underwater with just 45 percent of Americans approving of his performance.
But his approval rating began to sharply decline this summer, amid a national surge in coronavirus infection rates as well as the administration's highly criticized military withdrawal from Afghanistan. Biden has repeatedly defended his decision to remove all troops from Afghanistan by August 31 as he's received backlash from both sides of the aisle.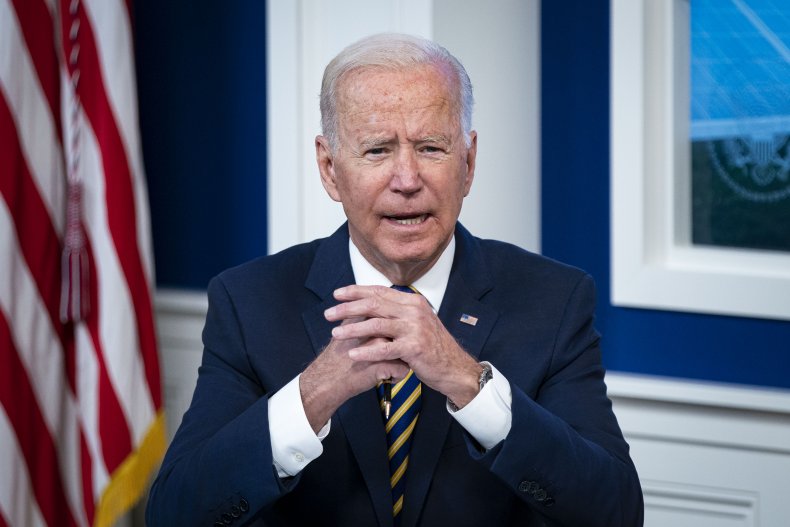 In July, American adults who approved of Biden's job performance plunged from 55 percent to 50 percent. Though the poll found his approval rating stayed steady in August at 49 percent, it then fell to 43 percent by early September.
The decline is being fueled by independent voters, according to Gallup. At one point, 61 percent of independent voters were supporting Biden's performance in the White House. Now, he has just 37 percent approval from the voting bloc.
Biden is also facing criticism abroad over the Afghanistan withdrawal, as well as a deal to help Australia deploy nuclear-powered submarines. Gérard Araud, the former ambassador to the United States from France, said in an interview this week that Biden is seen as a "big disappointment" across Europe.
Wednesday's Gallup poll also asked U.S. adults for the first time their thoughts on Vice President Kamala Harris's job.
Eight months into the administration, Gallup found her numbers are better than Biden's as 49 percent of those surveyed approve of her performance and 49 percent disapprove.
More than 90 percent of Democrats polled approve of the job Harris is doing as second-in-command, though her approval rating among Republicans is just 4 percent.
Harris is also polling better than Biden among independent voters. Forty-six percent of independents said Harris is doing a good job as vice president, versus 37 percent who disapprove of her performance.
The Gallup poll surveyed more than 1,000 U.S. adults between September 1 and September 17. The poll has a margin of error of plus or minus four percentage points.