President Joe Biden is sticking with his pick to lead the Office of Management and Budget (OMB)—despite growing opposition from lawmakers to Neera Tanden's nomination to the Cabinet position.
Tanden, who would be the first South Asian woman to lead OMB, has been under fire over her past tweets and comments aimed at lawmakers.
In another sign of trouble for Neera Tanden's nomination to lead the budget office, two Senate committees delayed votes Wednesday on her confirmation.
White House Press Secretary Jen Psaki on Tuesday declined to comment on potential fallback options, saying "there's one candidate to lead the budget department and that's Neera Tanden."
Asked Wednesday whether Tanden had offered to withdraw her nomination, Psaki said: "That's not the stage we're in." She added that "it's a numbers game, it's a matter of getting one Republican to support her nomination."
But experts warned against Biden dragging out Tanden's nomination, arguing that he could risk losing political capital he will need to pass much of his legislative agenda over the next four years.
"I suspect that he will not prolong this," Kathryn Dunn Tenpas, a nonresident senior fellow with governance studies at the Brookings Institution, told Newsweek.
"My advice would be to not lose any more political capital than you already have, don't go to the mat for it, because this is one of several really important appointments that you need to get in place quickly," she added. "Already, they're behind. They only have six of 15."
Tenpas also noted that it's important for Biden not to "burn bridges" this early on, especially when the Senate is so narrowly divided. The upper chamber is split 50-50 with Vice President Kamala Harris acting as the tiebreaker. Any appointment from the president needs a majority vote.
David Leblang, a professor of public policy at the University of Virginia and a senior fellow at the Miller Center of Public Affairs, specifically cited the need for Biden to stay on the good side of senators—among them Joe Manchin (D-W.Va.), Susan Collins (R-Maine) and Mitt Romney (R-Utah).
All three senators have come out against Tanden's nomination over the past week.
"If he thinks he's going to have to strike deals with Republicans, especially moderate Republicans, where he knows he's going to need the votes, is this where he uses that capital? I'm skeptical," Leblang told Newsweek.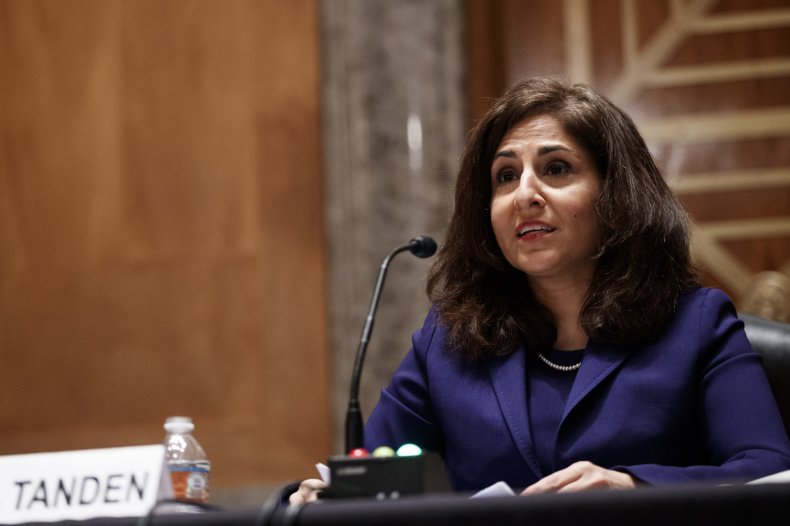 There are very few options for Biden to keep Tanden in the role without Senate confirmation.
Some have floated the idea of naming her "acting director," a route taken by former President Donald Trump for many of his top administration officials. But Max Stier, who heads the Partnership for Public Service, said he didn't believe it was a "viable option" for Biden due to the rules set out by the Vacancies Act.
In theory, the president could use a recess appointment by appointing Tanden when the House and Senate are both out of session. But Tenpas noted that would be "a little bit like a slap in the face" to lawmakers.
"I just think that that's not at all the chord that Biden is trying to strike," she said, citing his inaugural address and other public statements where he stressed bipartisanship and unification.
While the White House has continued to support Tanden, there have been reports about possibly finding a replacement to lead the OMB. The three names being floated are Gene Sperling, two-time director of the National Economic Council; Ann O'Leary, who has ties to Hillary Clinton's campaign and served as California Governor Gavin Newsom's chief of staff up until late December; and longtime congressional aide Shalanda Young, who was already chosen by Biden as deputy director of OMB.
Newsweek has reached out to the White House for comment on Tanden's nomination, but has not received a response.