Joe Biden's Comments on Fracking in Final Debate May Come Back to Haunt Him in Pennsylvania
The reactions of voters in critical battleground counties after last night's presidential debate evoke those of fans at a heavyweight championship fight between a seasoned challenger poised to claim the title and a "laid back" title holder claiming victory by raising both arms over his head at the final bell.
Swing counties where Barack Obama was victorious twice that flipped for Donald Trump in 2016 have garnered national attention as they have the potential of playing a big role in who wins the White House.
As voters have already started to cast their ballots in states across the country, 55 million viewers watched last night's final 2020 presidential debate between Trump and Democratic nominee Joe Biden, broadcast from Belmont University in Nashville, Tennessee.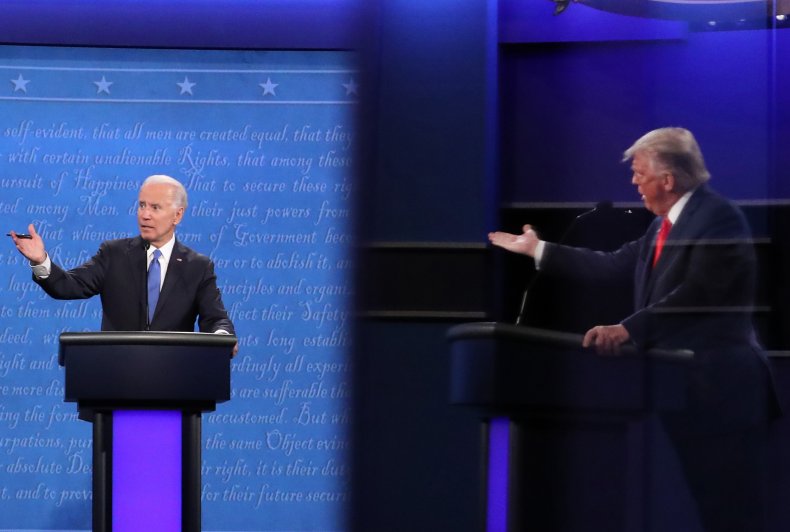 Trump Supporter Tom Stavitzski, a high school history teacher from Mountaintop, Luzerne County, Pennsylvania, said he thinks undecided voters watching the debate were swayed to vote for the president because of Trump's "laid back" approach that allowed the Democratic challenger to "harm himself."
"Biden royally screwed up when he basically stated that he is going to phase out the oil industry," Stavitzski told Newsweek in an email. "I thought that statement was outrageous and will be very costly."
Stavitzski said people in the high-paying Pennsylvania's fracking industry who'll fear for their jobs, and voters in oil-rich Texas, won't be happy to hear Biden's plan for fossil fuels.
In 2016, Trump enjoyed success in the region. Luzerne County swung from victories for Obama of 8.41% in 2008 and 4.81% in 2012 to a 19.31% win for Trump in 2016, helping him carry the Keystone State by less than 1% and capture its 20 Electoral College votes.
Biden's campaign announced Thursday that he and his wife are scheduled to visit both Luzerne and Bucks counties in Pennsylvania on Saturday. The chair of the Luzerne County Democratic Party was unavailable to comment for this story due to preparations for the former vice president's campaign stop.
David Thole, of Wright Township in Luzerne County, is a former Democrat who voted for Hillary Clinton in 2016 and then became a Republican supporting Trump in this year's election.
Foreign policy issues are of great interest to him.
"I agree both Iran and Russia should be dealt with if they are interfering with the outcome of the November election," he told Newsweek in an email. "In regard to North Korea, Trump did the right thing by meeting with Kim Jong Un multiple times, and did well by doing it diplomatically."
Benjamin T. Toll, assistant professor of Political Science at Wilkes University in downtown Wilkes-Barre in Luzerne County, said that in general county voters are invested in this year's election, with many more political discussions occurring and campaign signs being posted on campus and in neighborhoods around the county.
"There's more excitement this cycle than there was in 2016," Toll told Newsweek. "For better or worse, President Trump brings out strong emotions, whether you agree with him or not. There's just more desire to use your voice this cycle than there's been in previous cycles."
But Toll said not everyone is interested in the presidential campaign. Many of his general education students weren't particularly enthralled with last night's debate.
"Ironically, they were talking about how boring the debate was last night," Toll told Newsweek. "I think because it was more like a normal debate than what they were expecting and what we've had with President Trump. It just seemed a little bit more stale to a lot of them."
Toll's political science majors said they came away from the debate liking both candidates less.
Fillmore County, Minnesota, is another of the more than 200 swing counties that Trump turned red in 2016. Obama won the county by 8.26% in 2008 and 7.34% in 2012. In 2016, Trump won the county by 21.70% in a year that Hillary Clinton won Minnesota, and its 10 Electoral College votes, by 1.5%.
The Fillmore County chair of the Democratic-Farmer-Labor Party, Minnesota's arm of the Democratic Party, liked what he saw and heard from Biden last night.
"I think people saw a leader on the stage last night." Aaron Bishop told Newsweek in an email. "One who is proven to be capable, ready, and willing to represent all Americans."
Monroe County, Michigan is a swing county where Obama held sway by 4.35% in 2008 and 0.98% in 2012 before Trump flipped the county by 21.97% in 2016, according to Ballotpedia.
A community college political science professor found last night's debate to be quite civil compared to last month's debate.
"It was a lot better than the first debate, that's for sure," Michael Snyder, associate professor of Political Science at Monroe County Community College, told Newsweek.
During last night's debate, the president repeated several times the claim that Biden and his family had received millions of dollars from foreign governments.
Snyder said Trump continues sowing divisions and cynicism among voters.
"It really is tougher to find examples of Biden doing it, although you could, but Trump is the gasoline being poured on to the fire here," Snyder said.
Snyder said the public needs to be more skeptical of what they get from candidates and on social media.
"We have to become a lot more savvy in how we consume media." Snyder told Newsweek. "We can be more careful about where we're getting our information."
Snyder said the decline in Americans' trust in government and political legitimacy, a measure of how accepting people are of government wielding power and authority over the populace, has far-ranging effects on voters' opinions, and on the nation.
When trust in government falls off, instability rises, he said.
"It would be tough to say who's fault that is exactly," he said. "The reality is it's probably coming from multiple places."
Snyder said the public's loss of confidence and trust in government has been fed by the battle over Supreme Court nominee Amy Coney Barrett, bad behavior among the judicial branch and some members of law enforcement, and foreign interference in the U.S. political and electoral processes, as well as recent protests and violence in American cities.
"The question is how much of the sense of loss of legitimacy stems from just political rhetoric getting the best of us," Snyder said, "and how much of it stems from actual failure of government institutions to manage all these different elements of political society."