Democratic Presidential Nominee Joe Biden's oil industry remarks have put Texas Democrats on the defensive even as a new poll shows President Donald Trump trailing in the state.
Biden said that he would "transition from the oil industry" on Thursday night during the final presidential debate. "The oil industry pollutes, significantly," the Democrat said. "It has to be replaced by renewable energy over time."
Trump immediately seized on the moment, warning energy-producing states that Biden will "destroy the oil industry." "Will you remember that, Texas?" the president said. "Will you remember that, Pennsylvania? Oklahoma? Ohio?"
After the debate, Biden sought to clarify his statement, telling reporters that he would end subsidies, rather than "ban" fossil fuels in an effort to mitigate potential political damage.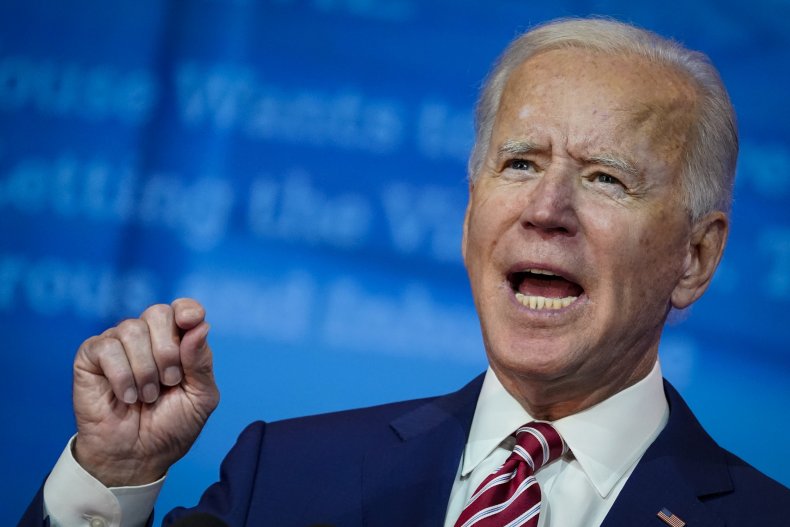 But Texas Republicans quickly zeroed in on the former vice president's comments. The state, which Democrats are attempting to flip from being solidly Republican, is made up of a significant amount of oil and petrochemical workers.
Texas Governor Greg Abbott said Biden "just killed paychecks earned by hardworking families in Texas."
Texas Senator John Cornyn's campaign used Biden's remark as ammunition against MJ Hegar, his Democratic challenger who recently campaigned with Green New Deal co-author Senator Ed Markey.
"Democrats are coming hard for Texas' oil and gas industry," Cornyn's spokesperson said. "A Biden-Hegar team in Washington would kill hundreds of thousands of jobs in our state and cause economic catastrophe."
Democratic Congressman Colin Allred of Texas was called on by his Republican challenger Genevieve Collins to condemn Biden's remarks. "Any plan to 'transition' away from oil must be called out for what it is: a job killer for the state of Texas, and destructive to the North Texas economy," Collins said.
And while Allred and Hegar defended Biden, one Democrat in the state has already broken with the candidate. Congresswoman Lizzie Fletcher, who's running for reelection in Houston, said the former vice president failed to "address the complexity of our energy needs and plan for the future."
In a statement to Newsweek, the Texas Democratic Party said the "Republicans have failed our energy sector for years," before calling for a "Joe Biden and Democratic majority in the Texas house."
"[GOP] leadership in this state and in this country, oil reached below zero dollars a barrel and energy companies like Exxon have had to go through mass layoffs and dropping out of the DOW," said Texas Democratic Party communications director Abhi Rahman. "The job killers in Texas are Donald Trump and Greg Abbott."
Meanwhile, Democrats locked in tight races in other oil drilling states also pushed back against Biden's remark and voiced their support for the fossil fuel industry.
"I disagree with VP Biden's statement tonight," Democratic Congresswoman Xochitl Torres Small tweeted. "Energy is part of the backbone of New Mexico's economy. We need to work together to promote responsible energy production and stop climate change, not demonize a single industry."
Trump and Biden are in a tight race in Texas. The latest Morning Consult poll, released Thursday, showed the Democrat with a 1 percentage point lead over the Republican among 3,000 likely voters. If Biden wins, Trump would be the first GOP candidate to lose the state since 1976.
Newsweek reached out to Biden's campaign for comment.
This story has been updated to include a statement from the Texas Democratic Party.