Joe Biden's HHS Secretary Has the Power to Lower Drug Prices. He Isn't Using It
Candidate Joe Biden promised to tackle out-of-control pharmaceutical prices. "I'm going to lower prescription drugs by 60 percent, and that's the truth," he declared in November 2020. But there's a gap between his campaign promises and the actions—or inaction—of his team. Prime example: Health and Human Services Secretary Xavier Becerra, who has yet to use his administrative power to control drug pricing in a way that he himself supported both as a member of Congress and as California Attorney General.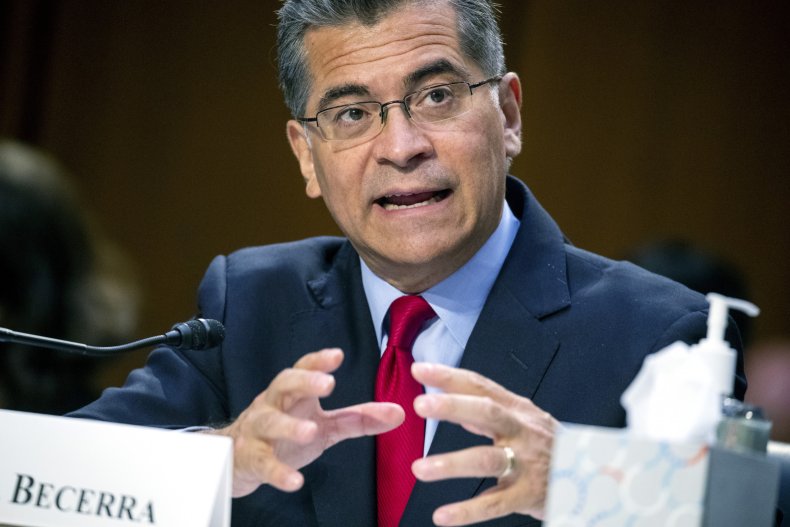 Much of the ongoing political debate about lowering the country's exorbitant drug prices has focused on whether Congress will authorize Medicare to use its purchasing power to negotiate more reasonable pharmaceutical prices. In the meantime, though, Becerra's office has the power to license patented pharmaceutical products made with federal funding. In July, lawmakers sent a letter to Becerra's office calling on the secretary to examine making use of these so-called "march-in" rights to control drug pricing.
Use "every possible tool"
March-in rights were established under the Bayh-Dole Act of 1980. They give federal agencies the power to revoke exclusive patent rights for products developed with government funding under special circumstances—including when "action is necessary because the contractor or assignee has not taken, or is not expected to take within a reasonable time, effective steps to achieve practical application of the subject invention in such field of use" and when "action is necessary to alleviate health or safety needs which are not reasonably satisfied by the contractor, assignee, or their licensees."
The federal government has never exercised those rights in the 40 years since the law was signed.
The July letter, authored by Sens. Elizabeth Warren, D-Mass., and Amy Klobuchar, D-Minn., as well as Rep. Lloyd Doggett, D-Texas, noted that federal funding has contributed "to the development of hundreds of drugs, some of which are protected by key patents that could be subject to march-in rights."
"HHS should consider using march-in rights when drugs face limited competition or market practices have failed to ensure an affordable price, ensuring that prescription drugs invented with taxpayer dollars are reasonably priced and affordable," read the letter.
The demand is consistent with positions Becerra has taken in the past. Just over a year ago, Becerra, then California's Attorney General, was one of a group of state attorneys general to sign a similar letter to Donald Trump's HHS Secretary, urging him to exercise march-in rights to increase the supply of Gilead Sciences' remdesivir at an affordable price. The drug, used as a COVID treatment, was developed with public funding. The missive, which excoriates Gilead for choosing "to place its profit margins over the interests of Americans suffering in this pandemic," called on the government to use "every possible tool" during "this unprecedented crisis."
Becerra and his colleagues went on to note, "If Americans who need remdesivir find themselves unable to afford a treatment course, then federal agencies have sufficient reason to require Gilead to 'license both the background patents and the patents stemming from the contract work' under the Bayh-Dole Act." This wasn't the first time Becerra had called for such a move. Four years earlier, Becerra, then a U.S. congressman and chairman of the House Democratic Caucus, was one of 51 House Democrats to sign a communication urging Barack Obama's HHS to use march-in rights to lower drug prices.
"The failure to act in the past has undoubtedly sent an unfortunate signal that prices for federally-funded inventions can be set as high as a sick or dying consumer will pay," the letter laments.
Becerra's co-signers at the time included Doggett.
While Becerra has not yet committed to utilizing march-in rights to lower drug prices, in September his office issued a report flagging march-in rights as a tool at their disposal. The report notes that HHS, the National Institute of Health, and other agencies have been petitioned to use march-in rights and pledges "to give such petitions due consideration."
Becerra's office did not respond to a request for comment.
"A devastating blow"
The pharmaceutical industry, meanwhile, is trying to stop the administration from using such tools to cut into its profits.
The Bayh-Dole Coalition—an organization backed by powerful pharmaceutical lobbying groups and an arm of the U.S. Chamber of Commerce—has been pressuring the White House to oppose march-in rights.
"The coalition will educate lawmakers to ensure the Act is utilized in the way Senators Birch Bayh and Bob Dole envisioned," stated a press release announcing the coalition's launch in February 2020.
Coalition members have recently penned op-eds and engaged in lobbying to prevent the federal government from using its ability to manufacture patented products developed with taxpayer money.
"Allowing the government to march in because someone believes the price a company charges for its therapy isn't 'reasonable'—a completely undefined term—would be a devastating blow to the U.S. economy and the health of Americans," wrote the coalition's executive director, Joseph Allen, in an op-ed on the health care news site Stat last month.
"Since [Bayh-Dole's] enactment, the U.S. has become the world's leader in innovation," Allen continued, arguing that if the federal government used its march-in rights under Bayh-Dole to lower the cost of prescription drugs, it would squash drug development.
Allen's claim about the risks to drug innovation was refuted by a recent Congressional Budget Office study that concluded that even if profits on top-selling pharmaceuticals were slashed by a quarter, the number of new drugs entering the market in the next decade would be reduced by only 0.5 percent.
Some of the Bayh-Dole Coalition's members are also lobbying directly on the law, including drug industry lobbying groups the Pharmaceutical Research and Manufacturers of America (PhRMA), the Biotechnology Innovation Organization, and the California Life Sciences Association, according to lobbying filings from the first two quarters of this year. Pharmaceutical companies including Merck, Sanofi, and Bristol Myers Squibb are also lobbying on the law.
The Raimondo factor
One potential barrier to Becerra exercising the government's march-in rights is an eleventh-hour Trump administration rule that would have blocked the federal government from using the law solely as a means to control prices.
In early January 2021, the National Institute of Standards and Technology (NIST), part of the Department of Commerce, proposed a rule under Bayh-Dole stipulating, "March-in rights shall not be exercised exclusively based on the business decisions of the contractor regarding the pricing of commercial goods and services arising from the practical application of the invention."
Biden's Commerce Secretary, Gina Raimondo, has not finalized the rule. When asked during her confirmation hearing by Sen. Tammy Baldwin, D-Wis., whether she intended to repeal the rule, Raimondo did not take a stance, only saying that she would work with Baldwin on the issue. In a July executive order, Biden urged Raimondo to "consider not finalizing any provisions on march-in rights and product pricing" in the proposed Trump rule.