Joe Biden's Leadership Rating Much Lower Than Trump, Obama or Bush: Poll
A new poll found that roughly one-third of Americans view President Joe Biden as a "strong leader."
The Gallup survey, released Tuesday, said 37 percent of U.S. adults rate Biden as a strong and decisive leader, while 63 percent said such characteristics don't apply to the Democratic commander in chief.
It's a much lower rating than that for his predecessors, Gallup reported. Donald Trump had 54 percent of respondents, on average, saying he was a strong leader, and the characteristic was one of the Republican's strongest qualities during his four years in office.
Fifty-six percent of Americans, on average, viewed Barack Obama as a strong leader. George W. Bush had the highest average leadership rating, at 63 percent.
The findings come approximately one year into Biden's presidency as his administration continues to combat the coronavirus pandemic. Biden is also dealing with rising inflation and a stalled legislative agenda in Congress.
Biden's approval rating is also underwater after having dropped significantly over the course of 2021. Gallup's latest poll found 40 percent of Americans approve of the job he's doing as president, his lowest approval rating to date.
But Biden did score well in two areas: likability and intelligence.
Sixty percent of Americans think Biden is likable, including 91 percent of Democrats, 59 percent of independents and 28 percent of Republicans. Biden's score on the trait is less than Obama's average of 79 percent but higher than Trump's 37 percent average over his four years in office.
Overall, 59 percent of Americans view Biden as smart. He scored very similar marks on this characteristic among different political affiliations, as he did on likability.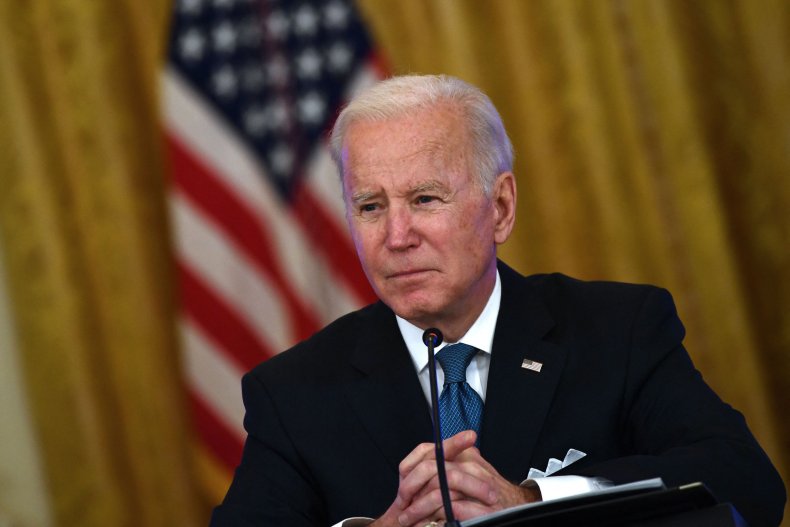 Biden was recently asked about his dropping poll numbers and how he and the Democratic Party plan to win back voters in the 2022 midterm elections, with so many disapproving of his job performance.
"I don't believe the polls," Biden responded during a news conference last week.
He then pointed to polling that shows aspects of his legislative agenda garnering broad public support.
"The American people overwhelmingly agree with me on prescription drugs," the president said. "They overwhelmingly agree with me on the cost of education. They overwhelmingly agree with me on early education. They overwhelming—I can go on to list, on child care."
Biden added, "And so we just have to make the case what we're for and what the other team is not for."
Gallup surveyed 811 U.S. adults between January 3 and 16. The poll's margin of error is plus or minus 4 percentage points.
Newsweek reached out to the White House for comment but didn't receive a response before publication.