Not All Biden VP Candidates Are Echoing His Message on Avoiding Violence
Former Vice President Joe Biden, the presumptive Democratic nominee for president, has condemned the violence at race protests across the country over the killing of George Floyd.
"Protesting such brutality is right and necessary. It's an utterly American response. But burning down communities and needless destruction is not. Violence that endangers lives is not. Violence that guts and shutters businesses that serve the community is not," Biden said in a statement Saturday night.
Floyd, a 46-year-old black man, died during a police arrest on May 25. Video of the arrest showed a Minneapolis police officer pinning Floyd to the ground with a knee to his neck as he could be heard saying "I can't breathe." The officer who pinned him to the ground, Derek Chauvin, has been charged with third-degree murder and manslaughter.
Protests have erupted across the country for six days after Floyd's death. More than 20 states activated national guard forces and dozens of cities issued curfews in response to the violence.
Many of the women on Biden's shortlist for vice president have echoed his statement against violence, including Atlanta Mayor Keisha Lance Bottoms; Senators Amy Klobuchar and Kamala Harris; and Representative Val Demings. Others like Stacey Abrams and Elizabeth Warren have so far largely avoided the issue of violence by protesters.
Mayor Bottoms earned widespread praise for her condemnation of violent demonstrations that erupted in her city in her calls for justice. The protests in Georgia included vandalism outside of CNN's headquarters and at the College Football Hall of Fame.
"This is not Atlanta. This is not a protest. This is not in the spirit of Martin Luther King Jr. This is chaos. A protest has purpose. When Dr. King was assassinated we didn't do this to our city," Bottoms said during a press conference. "So if you love this city—this city that has had a legacy of black mayors and black police chiefs and people who care about this city where more than 50 percent of the business owners in metro Atlanta are minority business owners—if you care about this city then go home."
Senator Klobuchar, whose record as a former prosecutor in Minnesota has been criticized amid Floyd's death, issued several tweets last week stating that "vandalism has to stop" and "we can't hurt each other." She also retweeted calls from other officials such as Representative John Lewis and Minnesota Attorney General Keith Ellison urging people to stop the destruction caused by rioting and looting businesses.
Senator Harris joined a peaceful protest in front of the White House on Saturday. In a statement, her communications director and adviser Sabrina Singh told Newsweek: "Senator Harris has attended protests since the time she was in a stroller. Black communities have not received equal justice under law for centuries. The pain is real. It's deep. It's legitimate. People must be heard by protesting and demonstrating peacefully."
In an interview over the weekend, Harris said it "shouldn't have to take folks burning buildings to be taken seriously about the need that the community has, that the family of Mr. Floyd has."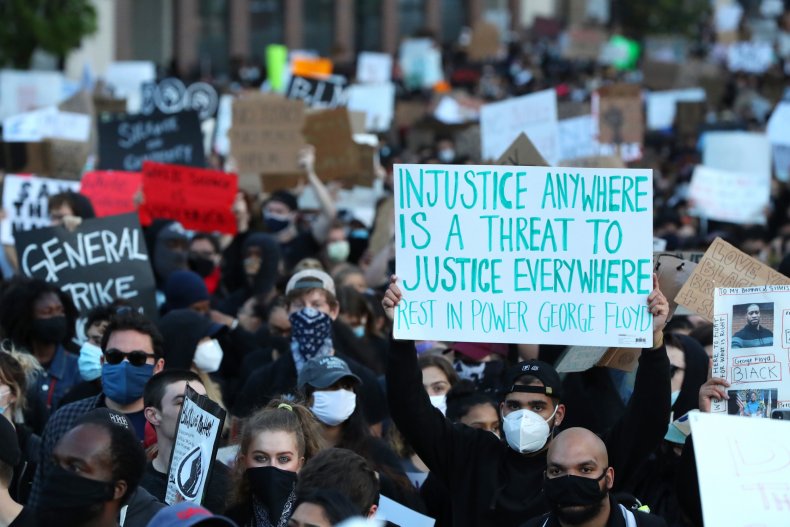 Representative Val Demings (D-Fla.) told MSNBC's Morning Joe on Monday that in order for the nation to heal "we have got to stay focused on what brought us here in the first place." In a tweet last week, Demings wrote that "life is more valuable than property."
"We can talk about the looting, we can talk about the rioting, we can talk about the destruction but why are we at this point? We are at this point because we say that the preservation of human life is our top priority," Demings told MSNBC. "It should be the top priority for the community and it should certainly be the top priority for the police departments across this nation"
When asked if she supported Biden's condemnation of the violence, Demings told Newsweek: "Yes. Of course I believe that people shouldn't burn, loot, and riot. But like Vice President Biden, I understand the deep frustration behind these protests, and the reason behind them: we have to address systemic racism in America. If you care about that issue, you have to turn out to vote for Vice President Biden."
Abrams, a Georgia Democrat and voting rights activist, has been more silent on the issue of violence by protesters. But on Monday, she retweeted a post from her sister Dr. Jeanine Abrams McLean that argued why the protests over Floyd's death shouldn't be considered riots.
"No justice, no peace!" is the chant from this week's protests & rebellions. I reject the word riot. A riot is a violent disturbance of the peace...How can there be peace when some who protest are "very good people" while others are "THUGS"? -Dr. Andrea Abrams #MySisterIsAmazing," the tweet read.
Another potential vice president pick, Senator Warren, has yet to directly address the violence happening at protests across the country. The Massachusetts lawmaker has slammed President Donald Trump over his tweets about the protests, calling them "horrific" and accusing Trump of "calling for violence against Black Americans."
Neither Abrams or Warren responded to Newsweek's request for comment by publication.
Biden has said he will announce a running mate by August 1. The protests have sparked a new wave of public lobbying for Biden to pick a woman of color to be vice president, though African American leaders told Newsweek not to dismiss Warren.
Update: This story has been updated to include a comment from Representative Val Demings.