Joe Biden's NSA Nominee Says U.S. Would Send a Message to China Over Coronavirus Response
President-elect Joe Biden's national security advisor nominee Jake Sullivan said the United States would "send a very clear message to China" that the country's response to the coronavirus pandemic was unacceptable.
Sullivan said that his initial focus of work on the National Security Council (NSC) would be to make public health a national security priority by putting a foot down with the growing world power.
"The way you actually make sure this doesn't happen again is by sending a very clear message to China that the United States and the rest of the world will not accept a circumstance in which we do not have an effective public health surveillance system, with an international dimension, in China and across the world going forward," Sullivan said in an interview with Politico.
The first known case of COVID-19 was discovered in Wuhan, China, one year ago. Since then, the coronavirus pandemic has infected over 62 million people worldwide, and killed at least 1.4 million, according to data from Johns Hopkins University.
Sullivan has repeatedly said that he will work to rebuild foreign alliances and partnerships that have been neglected under the Trump administration.
"Unlike the policy of the last few years, we will be able to rally the rest of the world behind us," he stated.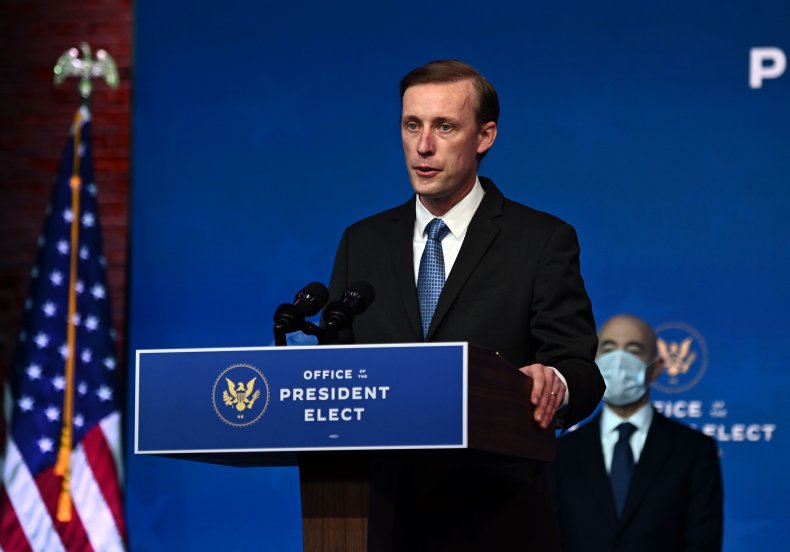 But the incoming Biden administration is expected to maintain a tough approach on China.
In March, Biden wrote that "the United States does need to get tough with China," in an article published in Foreign Affairs magazine. "The most effective way to meet that challenge is to build a united front of U.S. allies and partners to confront China's abusive behaviors and human rights violations," he wrote.
Biden has previously called Chinese President Xi Jinping a "thug" and said he would lead an international campaign to "pressure, isolate and punish China."
In his Politico interview, Sullivan has added to that sentiment by stating that one of his main foreign policy goals is "to rally our allies to combat corruption and kleptocracy, and to hold systems of authoritarian capitalism accountable for greater transparency and participation in a rules-based system."
Sullivan has been a longtime ally to Biden, having served as his national security advisor when he was vice president in 2013, and as a former senior policy advisor to Hillary Clinton.
Newsweek reached out the Biden transition team for additional comment, but did not receive a response in time for publication.