Joe Biden's Odds to Win Presidential Election Reach All-Time High as Key States Remain Undecided
Democratic Presidential candidate Joe Biden's odds of winning the 2020 election reached an all-time high on Thursday as key swing states remain undecided.
The former vice president's odds of winning the election have reached 91.7 percent, according to data compiled by The Action Network.
This marks a high point for Biden as The Action Network previously reported between a 29.2 and 90 percent chance for the Democrat throughout Wednesday.
The website, Election Betting Odds, which compiles data from bookmakers including FTX, Smarkets, Betfair and PredictIt, also has Biden sitting with an over 90 percent chance of winning the presidential race.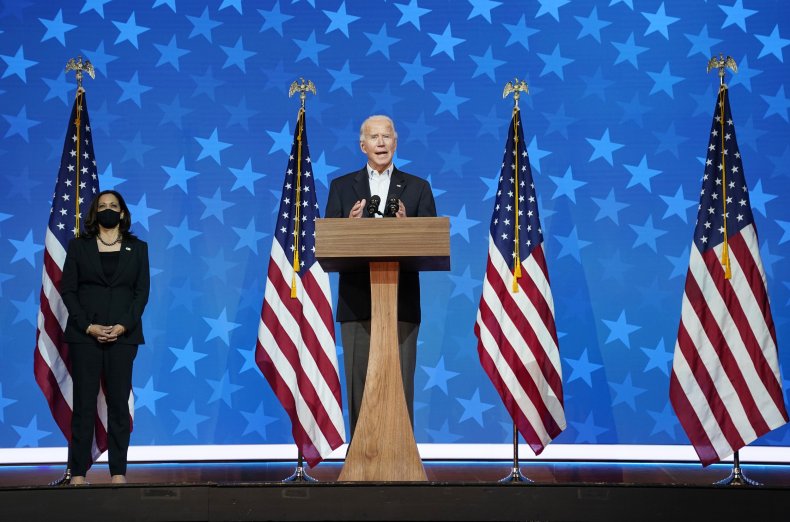 As of Thursday night around 5:30 p.m. ET, the site shows a 90.8 percent chance for Biden. The website also notes that Biden's chances of winning have increased by 13.1 percent in the last 24 hours.
Although the nation is waiting for final calls from key states, Biden is currently leading in electoral college votes.
According to the Associated Press, Biden has 264 electoral votes as of Thursday night, while President Donald Trump trails with 214 votes. Either candidate must reach 270 to win the presidency.
Oddschecker, which compared odds from dozens of bookmakers, favors Biden in key undecided battleground states.
In Georgia, Oddschecker gives Biden odds of 8-13 (61.92 percent) and Trump odds of 6-4 (40 percent).
In Pennsylvania and Nevada, Biden is out in front with odds of 1-4 (80 percent) and 1-5 (83.33 percent) respectively. Trump's odds are 3-1 (25 percent) and 9-2 (18.18 percent) in those states.
In terms of actual ballots cast, at the time of writing on Thursday, Trump was leading Biden by fewer than 10,000 votes in Georgia, according to a tally by the Associated Press, with 99 percent of the expected votes reported.
A Trump loss in Georgia would rule out his chances of outright victory, although in that scenario he could still secure a tie in the electoral college and win another term.
In the case of a tie, the president must be chosen by Congress. The House of Representatives would decide who becomes president while the Senate would choose the vice president.
If neither the House nor the Senate can arrive at a majority vote for president and vice president, then Speaker of the House Nancy Pelosi would serve as acting president until Congress can arrive at a decision.
In Pennsylvania, Trump also leads at the time of publication with around 90,000 votes, according to the Associated Press. With 89 percent of the expected votes counted, the outstanding mail-in ballots are expected to boost Biden's chances of winning the key state.
Biden does, however, lead in Nevada as of publication time. The Democrat has over 11,400 votes compared to Trump, according to the Associated Press, with 76 percent of the expected votes reported.