Despite the push from progressive lawmakers to cancel up to $50,000 of student loans per borrower, President Joe Biden's scaled-back plan to tackle the debt crisis is much more popular.
According to a new poll from Monmouth University, Biden's pitch to eliminate $10,000 in college debt for anyone with an outstanding federal loan has 61 percent support among U.S. adults. Thirty-seven percent of those surveyed opposed the idea.
When the amount was increased to $50,000 of debt cancelation, public support dropped to 45 percent. A majority of those polled—53 percent—opposed the proposition.
Democrats overwhelmingly supported both measures, although 18 percent more backed Biden's $10,000 proposal than the progressive pitch for $50,000. More than two-thirds of Republicans opposed both options.
Biden has repeatedly rejected calls from some members of his party to cancel $50,000 of student debt per loan borrower, disputing claims from Senator Elizabeth Warren (D-Mass.), Senate Majority Leader Chuck Schumer (D-N.Y.) and others that he could do so through executive action.
In his first public event after being sworn into office, Biden was told by an audience member at a CNN town hall in Wisconsin that student debt is "crushing" her family, friends and fellow Americans.
"We need student loan forgiveness beyond the potential $10,000 your administration has proposed," she said. "We need at least a $50,000 minimum. What will you do to make that happen?"
"I will not make that happen," Biden responded.
The president added that he understood the impact of debt, but didn't believe he had the authority to wipe out $50,000 without congressional action. He also stated he doesn't want to forgive debts of borrowers from elite schools such as Harvard University, and that the federal funds would be better spent on early childhood education.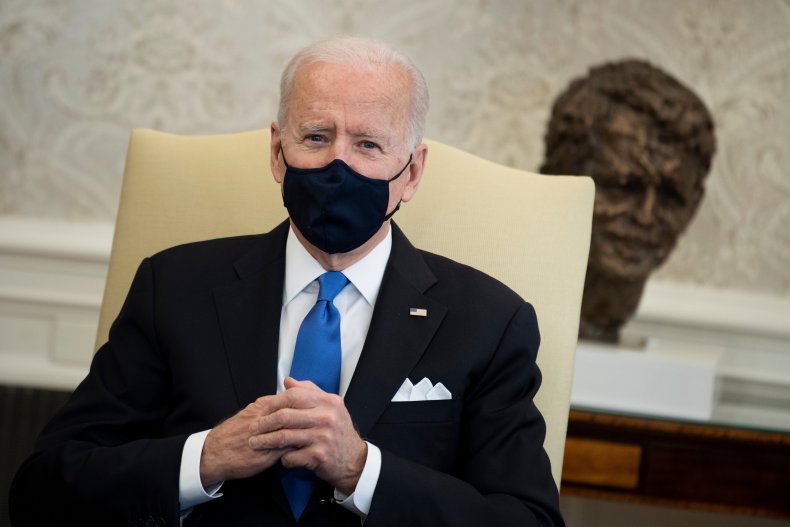 Progressive lawmakers have kept up the pressure on Biden, despite his statements rejecting the proposal.
Representative Ayanna Pressley (D-Mass.) told MSNBC last week that Biden "absolutely" had the authority to cancel student debt by way of an executive order, and claimed low-income households would benefit.
Representative Alexandria Ocasio-Cortez (D-N.Y.) also clashed with the president over the issue, tweeting after his CNN town hall that "the case against student loan forgiveness is looking shakier by the day," and that arguments against it "just don't hold water on close inspection."
In one of his first presidential acts, Biden extended the pause on student loan payments and interest amid the ongoing coronavirus pandemic. Federal student loan borrowers will not have to make payments until October 1 at the earliest.
The Monmouth University poll surveyed 802 adults between February 25 and March 21. It has a margin of error of plus or minus 3.5 percentage points.