Ahead of the first presidential debate of 2020, Democratic nominee Joe Biden holds a seven-point advantage over President Donald Trump—the largest since former President Bill Clinton's re-election in 1996—according to FiveThirtyEight's national polling average.
The last time a candidate sustained an advantage this large was nearly 25 years ago when Clinton led by 8.5 percentage points over Republican and former Senate Majority Leader Bob Dole. Clinton went on to win the election and defeat Dole with 379 electoral votes.
While Clinton did not win a majority of the popular vote, his popular margin remains the largest won by either party since Ronald Reagan won in a landslide victory by 18.2 percent in the 1984 election.
While the race to the White House was much tighter in the spring, Biden has consistently had an edge over Trump by 6 to 9.6 percentage points since June.
FiveThirtyEight's latest polls also show Biden ahead in a number of key battleground states including an 8.7 lead in Minnesota, a 6.9 lead in Michigan, a 6.5 lead in Wisconsin, a 5.4 lead in Pennsylvania, a 3.5 lead in Arizona, a 1.7 lead in Florida and a 1.1 lead in North Carolina.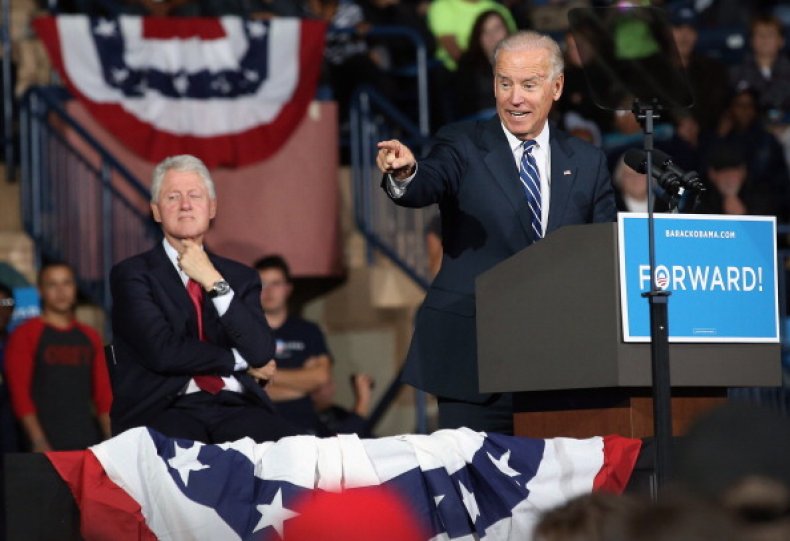 With 35 days until Election Day, Trump will be aiming to change the course of the race during Tuesday's debate.
The president will take the stage in Cleveland, Ohio alongside the former vice president for the first of three debates.
Fox News host Chris Wallace will be the moderator and is expected to question the nominees about their records, the Supreme Court, the coronavirus pandemic, racial tensions across the nation, the economy and the integrity of the election. The uninterrupted, 90-minute debate will dedicate 15 minutes to each topic.
Although Biden's polling shows him in the lead for the popular vote, he will need to secure at least 270 electoral votes to take the White House.
Back in 2016, while Democrat Hillary Clinton won the popular vote with a margin of 2.1 points, but Trump won 304 electoral votes, securing him the presidency.
Biden's sizeable lead may neutralize Trump's potential advantage when it comes to the Electoral College in this year's election. The Democratic nominee will also have the president's handling of the coronavirus pandemic on his side.
A poll released by ABC News/Washington Post earlier this week showed that more people trust Biden (52 percent) over Trump (40 percent) to handle the COVID-19 outbreak. According to the survey, Trump's approval rating sits at 44 percent, with 53 percent of participants saying they disapprove of his job as president.