Joe Biden's Primary Plan Will Fail, Democrats in New Hampshire Promise
President Joe Biden is facing backlash from New Hampshire Democrats over his plan for the 2024 presidential primary.
The Democratic National Committee (DNC) approved a new schedule for the primary on Saturday that would bump South Carolina, a traditionally conservative state, to the first race that would determine which candidate will be the party's presidential nominee.
Democrats say the shift will empower Black voters, a substantial voting bloc for the party who dominate the southern state's Democratic Party. However, the new schedule would strip New Hampshire of its longtime "first in the nation" status, enraging local Democrats who pledged to fight the change.
New Hampshire's federal delegation—comprised of Senator Jeanne Shaheen, Senator Maggie Hassan, Representative Annie Kuster, and Representative Chris Pappas, all Democrats—issued a joint statement blasting Biden's plan on Saturday.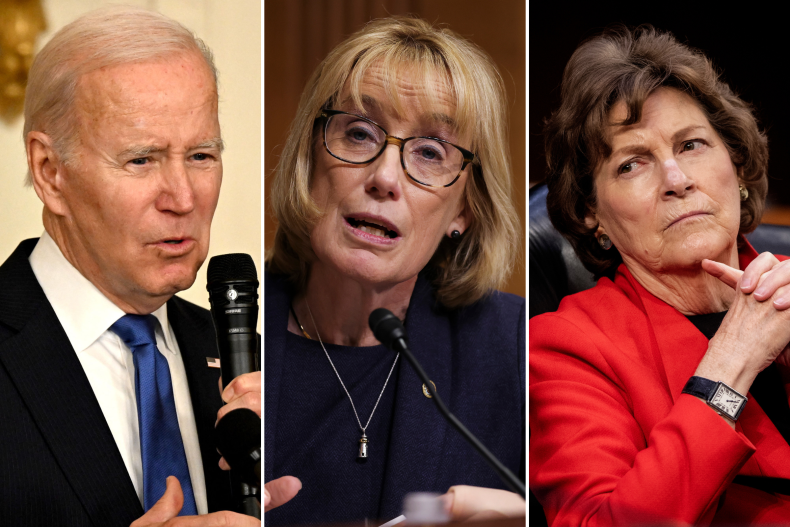 "No party committee gave New Hampshire the first-in-the-nation primary," they wrote. "Granite Staters created this process to put the power in voters' hands and give every candidate a fair shot, no matter their cash-on-hand or status within the party."
The Democratic lawmakers took a swipe at Biden, accusing him and the DNC of pushing "a plan of political convenience," an apparent reference to the 2020 primary, when his massive win in South Carolina boosted his campaign ahead of important races in other states, despite a weak showing in New Hampshire.
They pledged that Biden will "not be successful in the end," adding that they will work to protect New Hampshire's status and ensure state law is followed. The New Hampshire legislature in 1975 enacted a law allowing the secretary of state to move the primary a week before any other state's election.
"No matter what party powerbrokers or those in Washington think, New Hampshire will once again host our first-in-the-nation contest as we have done for more than a century," they wrote.
Hassan, who comfortably won reelection in the swing state during the 2022 midterms despite fears that a "red wave" could wipe out New Hampshire Democrats, called out the schedule in a tweet of her own, as well.
"Our First in the Nation Primary makes our entire country & democracy stronger. Regardless of the DNC vote, New Hampshire will go first," Hassan wrote Saturday. "The DNC's primary proposal asks us to violate our state law & puts Democrats' future success in our state at risk—it is deeply misguided."
Under the new schedule, South Carolina would hold its primary on February 3. New Hampshire and Nevada, traditionally early states, would follow on February 6. In the next few weeks, two other critical swing states would hold their primaries—Georgia on February 13 and Michigan on February 27.
Dante Scala, a professor of political science at the University of New Hampshire, told Newsweek on Sunday that regardless of the national Democratic Party's actions, New Hampshire will still likely hold its primary before South Carolina, as the party cannot change state law that compels their first in the nation primary.
While he believes the move will leave a "bad taste in the mouths" of New Hampshire Democrats—who view their first-in-the-nation primary as part of their civic culture—he questioned if it will ultimately change the minds of Democratic-leaning voters to vote for a Republican presidential candidate.
"I just wonder, months after the fact...10 months later, will New Hampshire Democratic voters be thinking, 'Well, I would vote for Joe Biden, the Democrat, except for this whole thing about the primary. I don't know," he said, adding that Republican candidates will try to make a point of the change.
Scala also warned that Democrats could further demote New Hampshire's status if they do not follow conditions to change the first-in-the-nation law or establish early voting—tasks that could prove to be difficult for Democrats, as Republicans hold majorities in the state legislature and governorship.
DNC Chairman Jaime Harrison, a former South Carolina Senate candidate, defended the new schedule during an appearance on MSNBC's The Sunday Show with Jonathan Capehart.
"It reflects the diversity of our party. The diversity of the nation but also it reflects our values," Harrison said.
Newsweek reached out to the DNC for comment.
Updated 02/05/2022, 5:33 p.m. ET: This story was updated with commentary from Dante Scala.