While the final results for Michigan's primary aren't expected to be released until Wednesday afternoon, former Vice President Joe Biden was projected to win the state's primary, with The New York Times calling Biden the winner at 53 percent with 31 percent of the polls reporting. Tuesday's victories for the Biden campaign, particularly in the Michigan primary, could spell the beginning of the end for the campaign of Vermont Senator Bernie Sanders.
"Michigan is obviously a very important state today," Sanders said to reporters on Tuesday. "There's a lot of delegates up there and we certainly very much want to win this debate. But I think let's not say what you have to win."
Sanders focused his campaign on Michigan in the days leading up to the primary, even canceling a planned rally in Mississippi to begin a focused attempt at drumming up support.
Michigan came to Sanders' aid during the 2016 election where he narrowly defeated Hillary Clinton in a surprise upset. Sanders claimed 49.8 percent of the popular vote while Clinton received 48.3 percent.
While Sanders has a history of winning in Michigan, it may not be enough to defeat Biden whose campaign has seen a surge in momentum since his primary victories on Super Tuesday.
Newsweek reached out to the Sanders campaign for comment but did not receive a response in time for publication.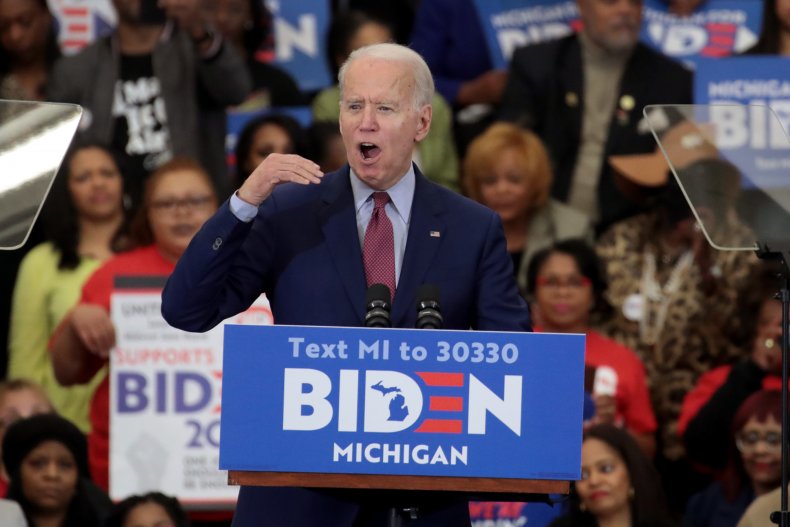 "Michigan is an important contest, not just for the Democratic primary, because the outcome of Michigan in November may determine who the next president of the United States is going to be," Biden said Monday in Flint, Michigan.
Michigan, with its strong mixture of black voters and blue-collar workers, may be enough to push Biden on to victory in the state, giving him a majority of the 125 pledged delegates.
Sanders, however, said he would not suspend his presidential campaign if Biden takes Michigan.
"Well, no, I certainly would not consider dropping out," Sanders said Sunday on Fox News Sunday. "Media ask you, 'Is this state or that state life or death?' I was asked that in Iowa. I was asked that in New Hampshire."
"We won California, the largest state in this country," Sanders continued. "We are winning among Latino voters big time. We are winning, winning among young people."
Whether or not Sanders gains enough delegates to make continuing his campaign remains to be seen. Biden was projected to win both Mississippi and Missouri Tuesday night by The Associated Press. Mississippi offers 36 pledged delegates while Missouri has 68 pledged delegates to be allocated.
If Sanders decides to suspend his campaign, that would leave only Biden and Gabbard as possible Democratic presidential nominees. Gabbard, however, has not been polling well, having received only two delegates in the primary cycle.
Sanders squashed the rumors of possibly running as Biden's vice president to Rachel Maddow on MSNBC in March.
"One old white guy is probably too many for some," Sanders said. "I think we need a little bit more diversity than that."