Joe Biden's Tweet After Winning the Election Becomes His Most Popular Ever
Joe Biden's tweet about winning the 2020 presidential election on Saturday quickly became his most popular post ever, gaining more than 2.6 million likes in a few hours.
The former Vice President was declared the winner in a tight race against President Donald Trump on Saturday morning after maintaining his lead in Pennsylvania. Following the announcement from major news networks, Biden tweeted that he was "honored" to become the 46th president of the United States.
"America, I'm honored that you have chosen me to lead our great country. The work ahead of us will be hard, but I promise you this: I will be a President for all Americans — whether you voted for me or not. I will keep the faith that you have placed in me," he wrote.
Along with his statement, Biden shared a video showing Americans from all walks of life while the song "America the Beautiful" played in the background. The video ends with the message "A country for all Americans," falling in line with his campaign's message to help unify the country.
By Saturday afternoon, the tweet had been liked over 2.6 million times and shared more than 680,000 times, making it his most popular post ever.
The former vice president also retweeted a message of congratulations from his running mate, Kamala Harris, which received over 25 million views.
Biden received 74.5 million votes throughout the election, breaking the previous record reached by Barack Obama in the 2008 election.
Though the final votes have not yet been counted, Biden clinched the presidency thanks to Pennsylvania while also leading in Georgia and Arizona. On Saturday, Nevada was called for Biden, while Trump held onto his lead in North Carolina.
The former vice president first gained traction over Trump on Thursday after he took hold of both Wisconsin and Michigan, two states that voted for Trump in 2016.
The 2020 election was Biden's third attempt at becoming president of the United States, and his victory will make him the oldest person elected to the White House.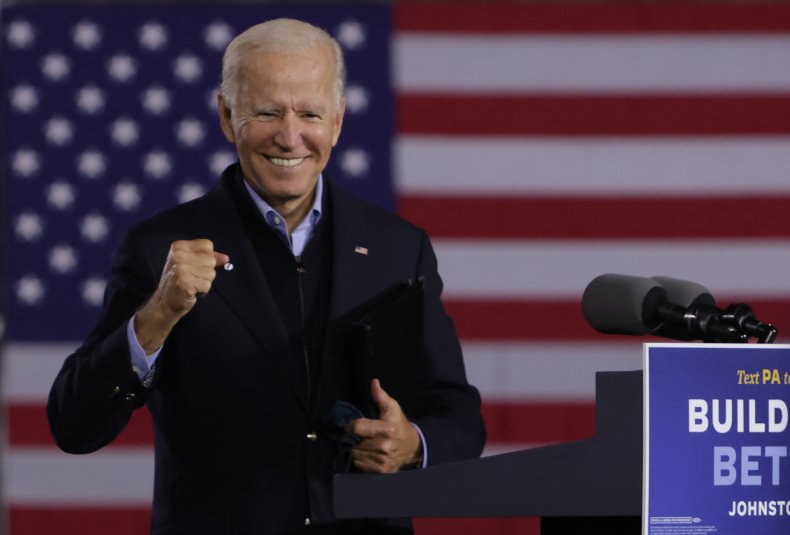 Harris will also make history as the first woman and first woman of color to ever serve as vice president. The two are expected to give their official acceptance speeches tonight at 8 p.m. (ET) from Wilmington, Delaware.
A number of politicians and world leaders have extended congratulations to both Biden and Harris, and crowds of supporters have gathered in cities across the country to celebrate the election results.
While Biden looks set to take oath of office on January 20, 2021, Trump has stated that he will not concede the race, calling it "far from over."
"Beginning Monday, our campaign will start prosecuting our case in court to ensure election laws are fully upheld and the rightful winner is seated," the Trump campaign said in a statement Saturday.
Newsweek reached out to both the Biden and Trump campaigns for additional comments.