Joe Budden Signs With Diddy For 'State of the Culture' Talk Show on REVOLT TV
Joe Budden has secured the bag. Whether you're a fan of the retired lyricist's music or not, "pump up" the applause for his latest TV deal. The rapper turned podcaster turned journalist just inked a deal with Sean "Diddy" Combs and REVOLT for a talk show called State of the Culture. Budden will produce and host the show, which is slated to debut this summer.
"Finally, Joe Budden is officially part of the REVOLT family," says REVOLT chairman Sean "Diddy" Combs in a statement to Billboard. "Joe has an authentic approach and he's never afraid to speak the truth. His many talents deserve a platform that pushes the culture forward and we are excited to produce next-level content with him."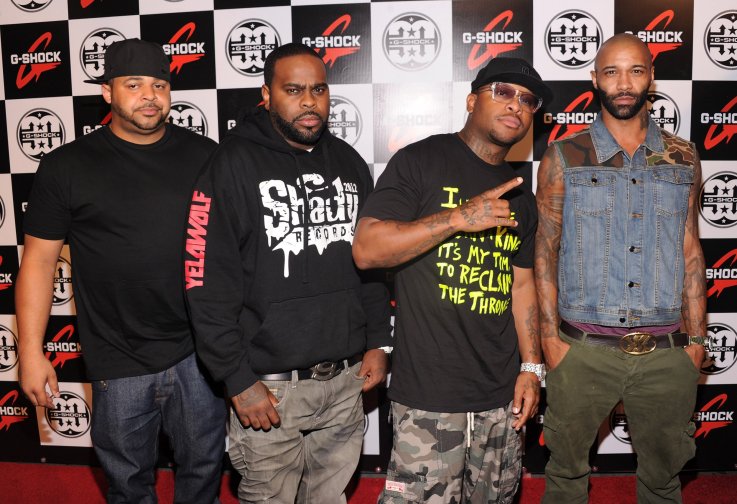 Budden parted ways with Complex and the once-viral daily show Everyday Struggle in December. The YouTube show became an essential alternative to blogs and New York radio shows like Ebro in the Morning or The Breakfast Club. Budden, at the time perceived as an old-school hip hop head, and the much younger DJ Akademiks, who gained a following from viral Twitch streams, made an irresistible and charismatic pair (Word to Nadeska for keeping them in check).
"It was important to partner with a company that recognizes the growing need for our voices and ideas to stream freely without interruption. That was a much prettier way to say, we bout to be with the shits," Joe Budden tells Billboard. "Thank you to my business partner Ian Schwartzman and REVOLT for the opportunity to highlight my brutal honesty, passion and integrity. I love REVOLTING!! Together, we will continue to take this thing to heights unseen."
Budden is known for his outlandishly compelling commentary about music, relationships, beef, fashion, sports, or even comic book movies—pretty much everything that falls into the hip hop nerd category. On his podcast, which he hosts with his friends Mal and Rory, listeners rave for his dramatic readings such as Logic's public statement about his divorce or Blac Chyna's mothers Instagram rant.
Each podcast ends with a "sleepers" segment that gives listeners new music to add to their playlists. Budden is blunt and impulsive, yet sincere, often discussing serious topics such as addiction and mental health. The Joe Budden Podcast won this year's BET social award for best podcast and is also going on tour in June.
State of the Culture is described as "raw, unfiltered, and informative debates and interviews where Budden digs deep with prominent celebrities, artists and personalities." That's all we know for now, but Budden is sure to speak on the deal during this week's episode of The Joe Budden Podcast Wednesday morning at 10 a.m. EDT on SoundCloud. Check out the teaser below.
Joe Budden Signs With Diddy For 'State of the Culture' Talk Show on REVOLT TV | Gaming