Joe Burrow Jokes About 'Retirement' Because of His 'Tiny Hands' Before the NFL Combine
Social media was fascinated Monday by the size of Joe Burrow's hands as measured by NFL scouts. The size of his hands, ironically, match the number he wore on his LSU jersey last season when he won the Heisman Trophy and a national championship.
The size of his hands? Nine inches.
After stories were written and social media posts shared, the former LSU quarterback had a little fun of his own through Twitter.
"Considering retirement after I was informed the football will be slipping out of my tiny hands. Please keep me in your thoughts," Burrow wrote.
Many NFL Draft experts predict Burrow to get picked No. 1 overall, and the Cincinnati Bengals currently hold that pick. But why are a quarterback's hand size so important, and where does he stack up against professional quarterbacks?
First, how are a quarterback's hand measured? It is the length from the pinkie to the thumb, according to ESPN Stats & Information. The average hand size for first-round quarterbacks since 2008 is 9.7 inches. Of those quarterbacks drafted in the first round, only Ryan Tannehill and Jared Goff had the same hand size as Burrow.
Two other quarterbacks who are projected to go in the first round this year—Alabama's Tua Tagovailoa and Oregon's Justin Herbert—each measured at 10 inches in hand size. Kansas City's Super Bowl-winning quarterback, Patrick Mahomes, measured at 9 ¼ inches during the 2017 combine, then went on to win the NFL MVP award in 2018.
Scouts say hand size allows better grip on the football. Burrow is still trying to prove that, well, size doesn't always matter when it comes to quarterbacks.
As for Burrow, he played in a pro system at LSU during his senior season, shattering school and SEC records along the way. These include:
60 passing touchdowns (NCAA record)
76.2% completions (2nd in NCAA for single season)
5,671 passing yards (SEC & LSU record, 3rd in NCAA)
65 total TDs responsible for (NCAA record)
402 completions (LSU record)
13 300-yard passing games (LSU record)
6 TD passes in CFP semifinal (Playoff record)
93.8% of Heisman votes (Most in voting history)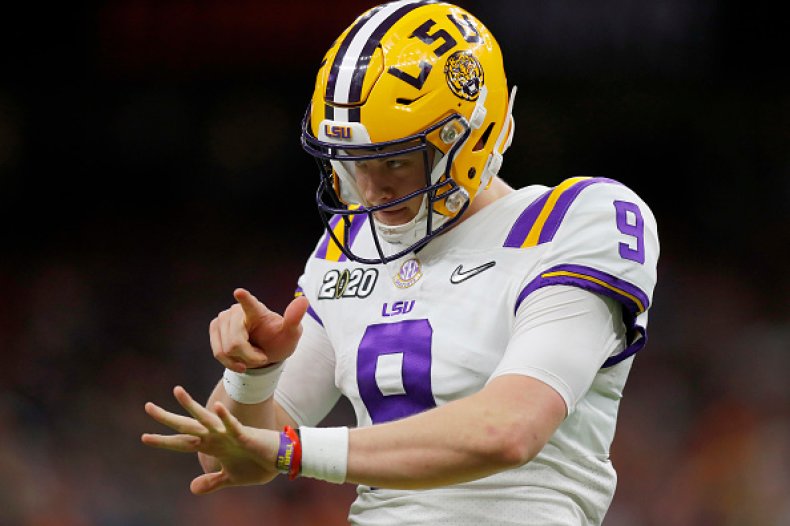 Burrow was a standout high school quarterback from Athens, Ohio, who wanted big-time college football opportunities, but Ohio State University was the only school to offer him a big-time chance. He played in that system as a backup for three years before transferring to LSU.
His last loss was a 74-72 setback to Texas A&M during a seven-overtime slugfest in November 2018. He has since won 16-consecutive games.
Burrow has expresses discontent with the possibility of getting drafted by the Bengals. The Bengals have declared they will not trade their top pick, and the team is likely to choose a quarterback in the first round.