Joe Burrow and Justin Herbert Could Set NFL Records in Week 7
The NFL careers of Joe Burrow and Justin Herbert may still be in their infancy, but the two rookies have already demonstrated they possess all the requirements to be the franchise quarterbacks the Cincinnati Bengals and the Los Angeles Chargers hoped they would be.
Six weeks are a very small sample size to judge a quarterback—even smaller in Herbert's case, given he has started only four games—but at the time of writing it would take a major leap of faith to believe Burrow and Herbert, respectively the first and sixth overall pick of the 2020 NFL Draft, will not become mainstays of the league for the next decade at least.
Both Burrow and Herbert could match NFL records on Sunday, when the former takes on the Cleveland Browns and the latter faces the Jacksonville Jaguars in Week 7 of the NFL season.
With 300 passing yards against the Browns, Burrow would become only the fourth rookie quarterback in history to throw for at least 300 yards in five different games in his first season in the NFL, a feat achieved last season by Arizona Cardinals quarterback Kyler Murray and New York Giants signal caller Daniel Jones.
Former Indianapolis Colts quarterback Andrew Luck holds the all-time record for games with at least 300 passing yards for a rookie quarterback with six in the 2012 season.
Burrow arrived in the NFL on the back of a season in which he took college football by storm, steering LSU to a perfect 15-0 record and the national title and winning the Heisman Trophy by a landslide.
He became the first player in SEC history to throw for at least 4,000 yards and 40 touchdowns in the same season and setting a new school and conference record with 5,671 yards and 60 touchdowns.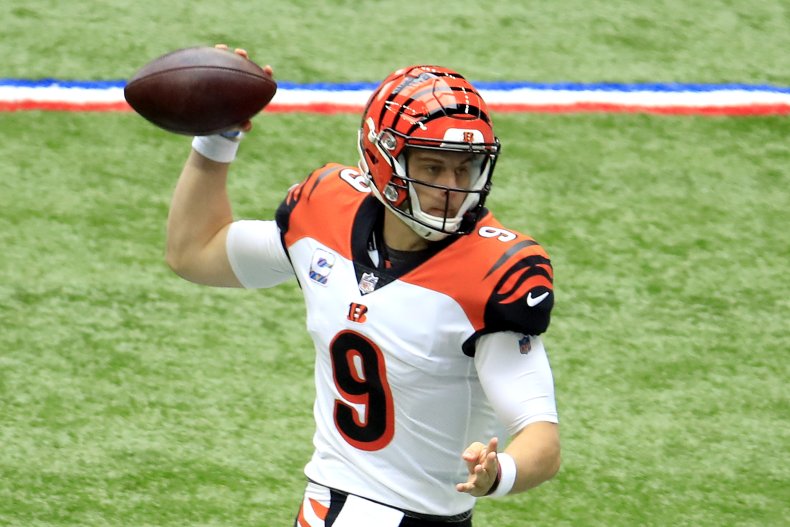 Despite playing behind a terrible offensive line—Burrow has been sacked 24 times so far, the second-highest tally in the NFL behind only Philadelphia Eagles quarterback Carson Wentz—the Bengals quarterback has shown plenty of encouraging signs in his first six starts and ranks second in the NFL in completions and eighth in passing yards.
At 1-4-1, Cincinnati's record is hardly spectacular but three of their four losses have come by a cumulative 12 points and bar a 27-3 blowout loss against the Baltimore Ravens in Week 5, the Bengals have held their own.
Meanwhile, with three touchdown passes against the Jaguars, Herbert would become only the second rookie in NFL history to throw at least three touchdown passes in three consecutive games along with Houston Texans quarterback Deshaun Watson, who managed it in four straight games in his first season in the league.
Herbert also needs 250 passing yards to become only the second player in NFL history to throw for at least 250 yards in each of his first five NFL games after Patrick Mahomes, who hit the threshold in each of his first 10 starts for the Kansas City Chiefs.
The Chargers quarterback leads all NFL quarterbacks in third-down passer rating with 150.9, significantly ahead of the second-best player in that particular metric—Mahomes, who has a 136.0 rating—and leads all NFL rookie quarterbacks with an overall 107.1 passer rating.
The former Oregon star also ranks in the top-10 in completion percentage and adjusted net yards per pass attempt—a key metric which quantifies the contributions of a quarterbacks passing game by including five key passing statistics.
As is the case for Burrow, however, individual brilliance hasn't translated into team success for Herbert.
The Chargers have lost every game since Herbert was named starter in place of Tyrod Taylor but, just as is the case with Burrow, the four defeats have all been close affairs and have come by a cumulative 18 points.
There are good reasons to expect both rookies to reach their respective milestones this week. When the Bengals lost 35-30 to the Browns in Week 2, Burrow passed for 316 yards and three touchdowns, while Herbert faces a Jaguars defense that ranks seventh-worst in the league against the pass, allowing 270.7 yards through the air per game.
It's unlikely to be the last time Burrow and Herbert will be in a position to beat records in their NFL careers.