Joe Burrow's Serious Injury Draws Heartfelt Messages From Opposing Team, Stars Around the NFL
Rookie quarterback Joe Burrow of the Cincinnati Bengals injured his left knee so bad Sunday afternoon that he was carted off the field. The hit happened during the third quarter of his team's game at Washington. As Burrow sat on the cart, the entire Bengals team came to his side to wish him well. Even some of the opposing Football Team gave him words of encouragement.
What happened to Joe Burrow?
The rookie, backed up against his own end zone, launched a pass downfield to Tyler Boyd. During the throw, Burrow was sandwiched by Washington defenders Montez Sweat and Jonathan Allen. The hit twisted Burrow around, and it looked like his left knee hyper extended. Burrow laid on the turf in apparent pain while grabbing his injured leg.
Early reports indicate he has a torn ACL, and that there might be other damage to his knee. Burrow tweeted that his season was finished.
"Thanks for all the love. Can't get rid of me that easy. See ya next year," Burrow tweeted Sunday.
Burrow had one of the best college seasons in history during 2019 when he led the LSU Tigers to an undefeated season and national championship. Burrow was last season's Heisman Trophy winner in an historic landslide, and he was the No. 1 pick for a franchise desperately needing a change at quarterback. The Bengals also haven't won a playoff game since 1991.
Burrow has shined during his rookie season, despite his team's 2-7-1 record. Through the 10 games so far, he has thrown for 2,688 yards and 13 touchdowns against just five interceptions. Burrow has thrown for 300 yards or more in six games this season, tying a record for a rookie through 10 games.
The Bengals are now expected to start Ryan Finley at quarterback. Finley is a second-year player from North Carolina State.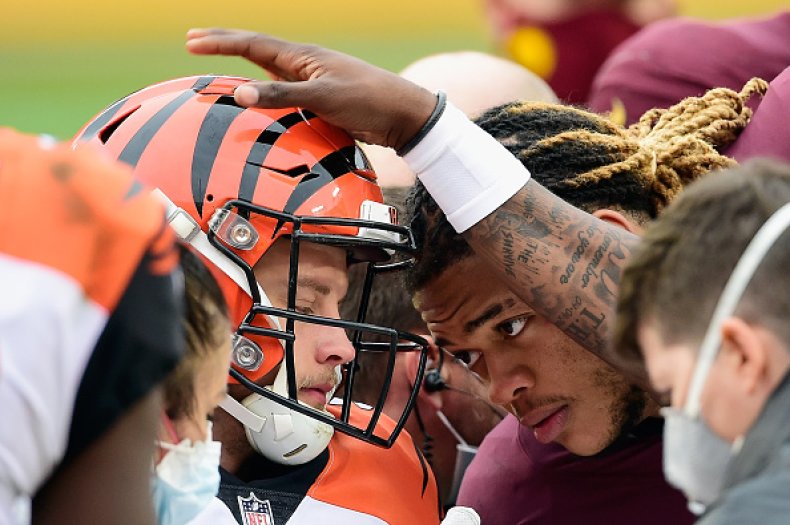 Burrow transferred from Ohio State to LSU prior to the 2018 college season. As the Bengals lined up on the field to wish their quarterback well, so did three Washington players who were teammates with Burrow at Ohio State— Chase Young, Terry McLaurin and Dwayne Haskins.
Haskins, who is a quarterback for Washington and once competed with Burrow for the position at Ohio State, said, "Love u bro. Get well soon @JoeyB."
The Washington Football Team wished Burrow well shortly after the game.
Kansas City Chiefs quarterback Patrick Mahomes also sent his well wishes to Burrow.
Chiefs running back Clyde Edwards-Helaire, a rookie, played in the same backfield at LSU last season, and he was also a first-round pick this spring.