Where Is Joe Crain? Longtime Springfield TV Weatherman Off Air Since Slamming Station's Code Red 'Corporate Initiative' During Broadcast
A veteran television meteorologist who criticized his own station's Code Red weather alerts for being a "corporate initiative" in a broadcast Wednesday has not been seen on-air since airing his grievances—sparking an outpouring of support on social media.
Joe Crain—a weatherman for Springfield media outlet WICS-TV—spoke out during a segment warning of strong-to-severe thunderstorms potentially hitting regions of Illinois. Code Red alerts are assigned by the station prior to extreme weather, but not everyone is a fan.
"We want you to know it's not us," Crain said in the Wednesday segment. "This is a corporate initiative, the Code Red alert. And behind the scenes, many of us have tried to dissuade it for the last few months, to try something else that's less controversial to the viewers.
"So, keep in mind, despite the fact that this facility is owned by a corporation, it's still licensed under the authority by the Federal Communications Commission (FCC) to serve the public interest, convenience and necessity. So you still have a voice—keep those cards and letters coming. I'll let you be the judge on whether or not Code Red serves the public interest."
Footage of Crain's irritations about the policies enforced by his own TV station, which is owned by Sinclair Broadcast Group, has been viewed tens of thousands of times on Twitter. In the clip, he instead shows a preference for predictions made by the U.S. National Weather Service.
The State Journal-Register, a Springfield newspaper, reported that Crain's staff biography has since been deleted from the WICS-TV site and he did not appear on Thursday shows.
The meteorologist has been employed at the company since 2004 and, based on the support shown on his Facebook page, is appreciated by the local community. Commenters flooded his personal account amid mounting speculation on Twitter that he had been suspended.
Crain did not respond to Newsweek's request for comment via Facebook. In a statement to the Journal-Register, he stated: "I'm employed by WICS and have no comment to offer."
During his broadcast Wednesday, Crain said the station had received letters about the Code Red alerts from the public and comments on social media. One such letter, published on Monday, complained it "would appear that any cloud in the sky will warrant a 'Code Red.'"
And Crain appeared to roughly agree with the sentiment—publicly. The long-time meteorologist told viewers: "Code Red was created by, likely, a journalism school graduate. That being said, I'm a journalism school graduate.
"So it's not perfect. A lot of people [are] not very happy with this over the last few months, since we've implemented it on Storm Team 20. That's evident by the thousands of comments on social media, letters to the editor, frequent calls to local talk radio shows. We've heard you and yes, we realize you have some very strong and passionate views about it.
"When you hear Code Red you think… as they say, 'feces is about to hit the fan.' We understand your concerns and we want you to know that we take them very seriously… I don't take myself very seriously, but I do take my job seriously, and my responsibility to the public."
In a statement obtained by the State Journal-Register, a Sinclair spokesperson defended the use of Code Red alerts but would not comment further.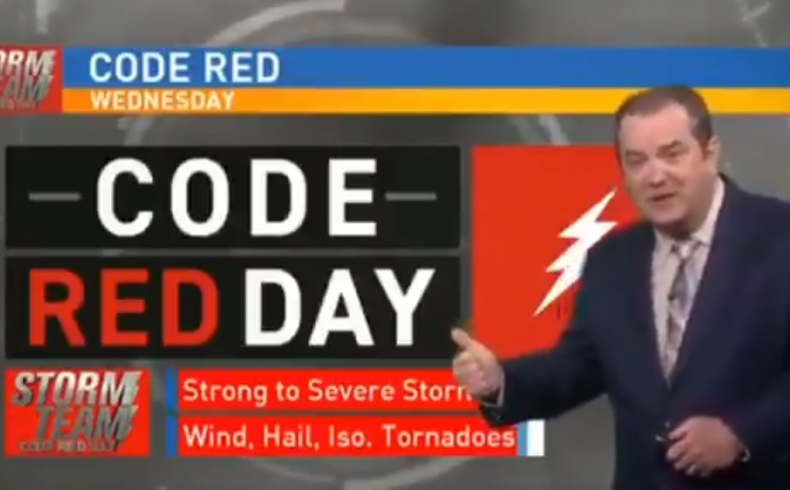 In a statement to Newsweek, Ronn Torossian, spokesperson for Sinclair, said:
"On Wednesday morning, WICS issued a Code Red weather alert. We're glad they did. That afternoon there was significant storm damage in the area including trees falling on homes, downed powerlines, and hail storms. Thankfully, residents were adequately warned to prepare.
"On Wednesday, when we made the alert, the National Weather Service had also signaled that there was an enhanced risk of severe weather. The frequency of these alerts has increased of late given the severe weather-related events across the country in recent weeks.
"Furthermore, the decision to issue these alerts is always made by our local meteorologists and we will continue to trust our local experts to know when to make the call to announce these warnings. Beyond this, our policy is to not comment on individual personnel matters."
This article has been updated with comment from Sinclair.