Joe Crain: Senator Dick Durbin Leads Campaign to Reinstate Missing Springfield TV Weatherman: 'Those of Us Who Believe He's Right Need to Say So'
Tens of thousands of people are continuing to show their support for a local weatherman who has not appeared on air since he criticized his station's use of Code Red alerts during a live broadcast.
Joe Crain, a veteran television meteorologist who worked for WICS-TV in Springfield, Illinois, went viral earlier this month after he spoke out against use of the severe-weather warning by his station and other affiliates owned by the Sinclair Broadcast Group.
Crain voiced his concern that the alerts are used too frequently and cause needless concern for viewers but are forced upon him by Sinclair Broadcasting, the largest television station operator in the U.S., which owns a total of 193 local media outlets across the country.
"When you hear 'Code Red,' you think, as they say, 'the feces is about to hit the fan,'" Crain said during his outburst on June 7.
Crain added that the use of the Code Red alert does not take into account that "not all storms are created equal" or how isolated a storm could be. Crain added that he preferred the National Weather Service's use of a 1-5 scale for severe weather warnings.
"A lot of people were not very happy with this over the last few months since we've implemented it on Storm Team 20," he said. "That's evident by the thousands of comments on social media, letters to the editor, frequent calls to local talk radio shows.
"We want you to know it's not us," Crain added. "This is a corporate initiative, the Code Red alert. And behind the scenes, many of us have tried to dissuade it for the last few months, to try something else that's less controversial to the viewers."
After the clip went viral, Crain's staff biography was removed from the WICS-TV website and he has not appeared on the network since.
During his absence from the air, an online petition urging the station to "Bring back Joe Crain" has attracted more than 15,000 signatures.
"Joe is an integral part of the WICS team. He is kind, knowledgeable, and the news would not be the same without him. Please sign this petition requesting that Joe be retained by the station," a description on the change.org petition page reads. "We love you, Joe!"
At least four local business have also pulled their advertising from WICS-TV to show their support for Crain, reports The State Journal-Register.
"Sinclair Broadcasting needs to know that it hurts businesses," said Mark Coats, owner of Marx Fireplaces & Lighting. "I mean people just don't shop when they yell 'Code Red' unless it's a grocery store or a gas station."
Coats added he considering dropping his advertising from the station for at least a year unless Crain returns.
Senator Dick Durbin (D-IL) has also shown his support for Crain, adding that WICS and Sinclair Broadcasting were "overstating the danger to our community," with their use of Code Red alerts.
"They're not the only ones doing it, but they seem to be stuck on it and they want to blame him," he told reporters at his Springfield Home, according to The State Journal-Register.
"When someone sticks his neck out the way he did, those of us who believe he's right need to say so."
Sinclair Broadcasting has previously been criticized for using its vast network of local news outlets to push right-wing agendas, including making its news anchors read near identical scripts.
Sinclair Broadcasting did not immediately return a request for comment.
In a statement, WCIS said that they will no longer be using the Code Red alert following concerns from the public.
"Code Red alerts were developed because we believe they enhance the community's preparedness for severe weather. To reiterate, the decision on if, and when, to issue Code Red weather alerts is made at the local level. Our alerts from last week were no exception," the statement added.
"We live and work and have families and friends in this community—safety is deeply personal for us.
"We firmly believe in the need to provide an early warning alert and will continue to provide this potentially lifesaving information, but we have come to understand that the words Code Red may no longer be fitting.
"As such, we are changing the name of our early warning alert to 'Weather Warn.' In addition, we will continue to work to more precisely define the specific geographic areas of greatest concern."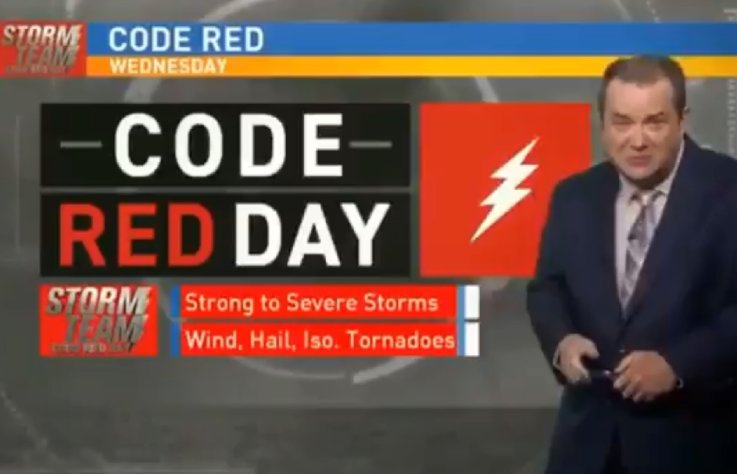 This article has been corrected to state that Dick Durbin is the Senator from Illinois.
Joe Crain: Senator Dick Durbin Leads Campaign to Reinstate Missing Springfield TV Weatherman: 'Those of Us Who Believe He's Right Need to Say So' | U.S.