Joseph Maldonado-Passage, better known as "Joe Exotic" from the hit Netflix docuseries Tiger King, may be out of jail sooner than expected.
According to court documents, a U.S. 10th District Court Judge upheld Maldonado-Passage's conviction but has vacated his sentence. The judge reviewed his appeal and ordered he be resentenced.
Maldonado-Passage was indicted by a federal grand jury on two counts of murder-for-hire stemming from his alleged plot to have Big Cat Rescue's Carole Baskin killed. Baskin has long criticized the treatment of animals at Maldonado-Passage's Greater Wynnewood Animal Park in Wynnewood, Oklahoma.
"Twice, within weeks, he set about hiring men to kill Baskin—one, an employee at his park; the other, an undercover FBI agent," court documents read.
The "Tiger King" was sentenced to 22 years in prison in January 2020 for the two murder-for-hire charges, as well as a number of wildlife violation charges. His 22-year prison sentence is now being reconsidered, according to court documents.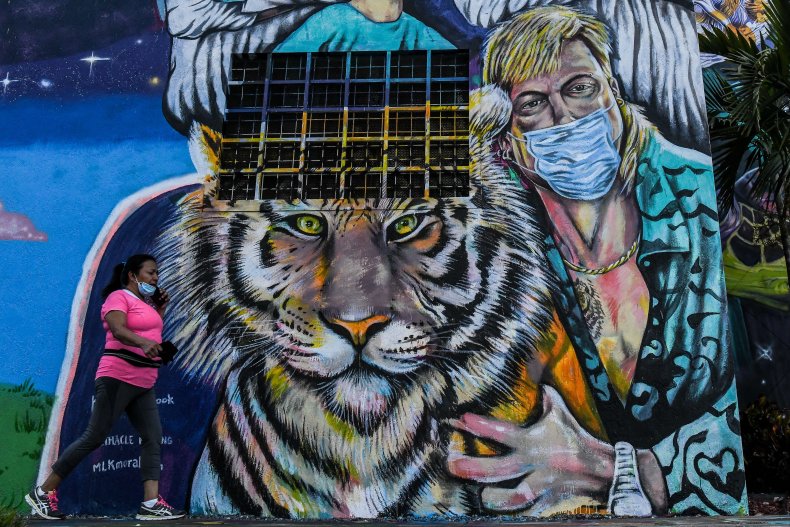 Maldonado-Passage's appeal requested that the judge review the case because Baskin, a government witness, was permitted to attend the duration of the trial and because two of his charges were not grouped together.
"We hold that the district court acted within its discretion by allowing Baskin to attend the full trial proceedings despite her being listed as a government witness, but that it erred by not grouping the two murder-for-hire convictions at sentencing," the documents said.
During Maldonado-Passage's 2019 trial, the judge sentenced him separately on the two counts of murder-for-hire. In doing this, Maldonado-Passage received a steeper prison term.
The judge noted that independently trying the two counts led to an increase in Maldonado-Passage's total offense level.
"We agree with Maldonado-Passage that the district court should have grouped the two counts," the court document read.
Sentencing guidelines for the two un-grouped counts of murder-for-hire list an appropriate sentence as 262 to 327 months. Maldonado-Passage received a sentence of 264 months based on those guidelines. Grouped together, the guidelines would have recommended 210 to 262 months for the "Tiger King."
The decision noted that federal sentencing guidelines require related charges to be grouped for sentencing if the charges meet certain criteria. The charges must involve the same victim, involve at least two transactions, and the acts must serve the same "common criminal objective," according to the court documents.
"For the foregoing reasons, we affirm Maldonado-Passage's conviction but vacate the sentence and remand for resentencing," the judge concluded.
Maldonado-Passage will be held in custody until he can be resentenced. The "Tiger King" may see up to a four-and-a-half-year reduction to his sentence.
People for the Ethical Treatment of Animals (PETA) reached out to Newsweek with a statement weighing in on Maldonado-Passage's new sentencing. Spokesperson David Perle highlighted that the conviction still stands. One of Maldonado-Passage's 17 crimes against wildlife includes an incident where he allegedly shot five tigers.
"'Joe Exotic' still has many years in prison ahead of him. His convictions for gunning down five endangered tigers and other wildlife crimes stand and the rest of his Tiger King cohorts are still poised for their own downfalls, so neither PETA nor anyone else who cares about animals has anything to worry about," said PETA Foundation Associate Director of Captive Animal Law Enforcement Debbie Metzler.
This article was updated at 5:45 p.m. EST with comments from PETA.