'Joe Exotic' Sentenced to 22 Years for Shooting Five Tigers, Plotting to Murder Animal Rights Activist
The United States Attorney's Office for the Western District of Oklahoma has announced that Joseph Maldonado-Passage, better known as "Joe Exotic," has been sentenced to 22 years in prison for his role in various crimes of animal abuse and attempted murder for hire.
Maldonado-Passage is a colorful character who operated the controversial Garold Wayne Exotic Animal Memorial Park in Wynnewood, Oklahoma. That facility was criticized by animal rights activists for breeding large cats and allowing visitors to pet and touch the animals.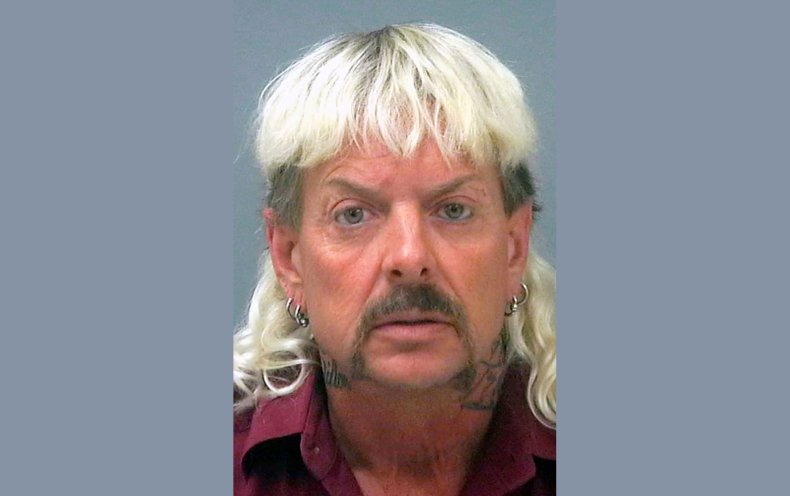 According to Texas Monthly, Maldonado-Passage was born Joseph Schreibvogel in rural Kansas, the son of farmers. In his youth, the family moved to Texas and Joe pursued a career in law enforcement, being named Sheriff of Eastvale, Texas in 1983.
After attempting suicide by driving his police cruiser into a concrete barrier, he moved to Florida and began working in a pet store. That is where he discovered his love for exotic animals. When his brother was hit by a drunk driver and died in 1987, he opened the Exotic Animal Memorial Park.
Most of his early exhibits were donations from people who no longer wanted to keep the animals as pets. In 2000, he received his first two tigers, which he named Tess and Tickles and began to breed.
As his fame increased, individuals and organizations spoke out against his business practices. Video of employees striking a tiger with a rifle butt led authorities to investigate, but no action was taken.
By the mid-2000s, the Exotic Animal Memorial Park held over a thousand animals. Visitors could buy Joe Exotic branded condoms and lotion in the gift shop.
In 2013, Maldonado-Passage lost a trademark lawsuit against Big Cat Rescue, a wildlife sanctuary in Tampa, Florida that specializes in felines. A court ruled that he had used logos and images from that organization without their permission and awarded $1 million to the group.
That escalated a campaign of harassment Joe Exotic had been conducting against Carole Baskin, the CEO of Big Cat Rescue. Baskin had come onto Maldonado-Passage's radar earlier, when she was quoted in an article decrying the conditions at his zoo, and he retaliated by using her logo to claim that they were sponsoring his traveling animal shows.
Prosecutors said that he then paid a man $3,000 to travel to Florida to kill Baskin, with the promise of additional money after the hit was successful.
This was not the first time that Joe Exotic had tried to have his rival snuffed. The FBI had also reported that the zookeeper had met with an undercover agent, with whom he discussed killing Baskin.
In addition to the attempted murder for hire, Maldonado-Passage was also charged with numerous crimes related to the treatment of the animals in his care. In one case, he allegedly killed five tigers at the park to clear up cage space for other large cats, violating the Endangered Species Act.
He was also convicted of violating the Lacey Act, which prohibits falsifying records of wildlife transactions in interstate commerce. Prosecutors say that he would mark delivery forms as "donations" when he was actually receiving cash payment for the animals he bred and sold.
Maldonado-Passage also dabbled in politics. In 2018, he launched a quixotic bid for governor, for which he represented the Libertarian Party. He ran on a party platform of reduced drug sentencing and mental health care, but did not secure the party's nomination.
U.S. District Judge Scott L. Palk sentenced Maldonado-Passage to 264 months in federal prison. The majority of that time is due to the attempted murder for hire charge.