Joe Exotic's Biggest Crime of All May Be This Country Music Video
Tiger King: Murder, Mayhem and Madness, Netflix's latest true crime documentary has the potential to trigger bewilderment in all viewers. There's not much missing from the series. It features a Presidential run, murder plot, a murder trial and animal abuse.
But the documentary teases something even more confusing: Joe Exotic's country music career.
While the documentary dives into horrific depths that may make viewers never want to visit a zoo again, there's an element of comedy that seems to come from multiple parts of Joe Exotic's ego. It's hard to tell if his wild behavior is something appropriate to laugh at. Then, a clip of one of his music videos starts playing and it's clear the character is unlike any villain in television history.
Tiger King gave fans a quick glimpse into the country music artist's career, which consisted of YouTube videos and albums sold in his Greater Wynnewood Exotic Animal Park gift shop. Even though Joe Exotic is behind bars now—for trying to have a rival tiger advocate killed, and for multiple charges of animal abuse and Endangered Species Act violations—his music lives on.
Surprisingly, Joe Exotic doesn't have a terrible voice. Whether through production means or natural talent (or claims it's not really his voice), the former zoo owner can hold a tune. It's the song's messages that are absolutely comedic. Even in his attempted music career, Joe Exotic led with his love of tigers, and even his hate of Carole Baskin.
His first music video, titled "I Saw A Tiger," talks about letting tigers run free on their land, and stopping people from hunting the majestic animals. "Cause I saw a tiger, now I understand, I saw a tiger and the tiger saw a man," the chorus sings.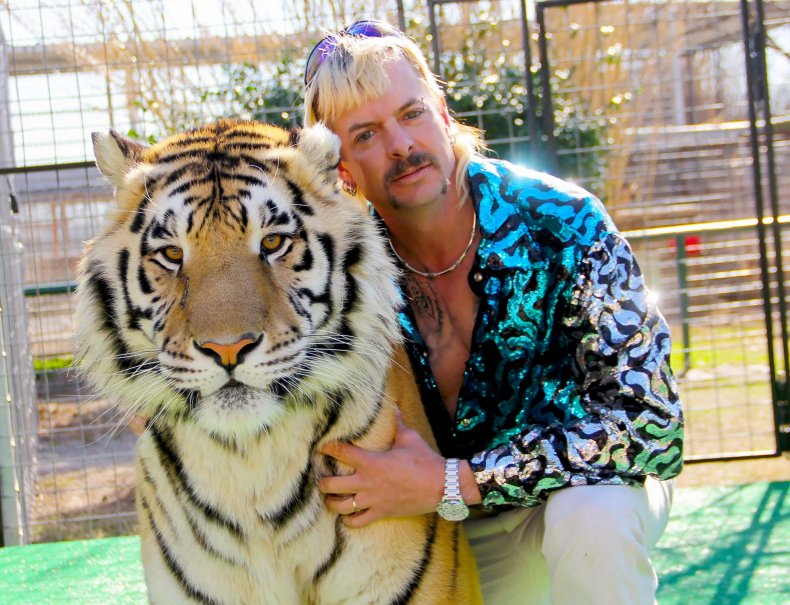 After Joe Exotic's incarceration, the song becomes even more ironic. Though the first lines speak of putting down one's guns and letting tigers roam, the former zoo owner was found guilty of shooting and killing five of his own tigers to make room for more in his animal park. Not to mention his beloved tigers cannot "rule the jungle," as he suggests in the song, due to his own dedication to captivity.
The video's caption on YouTube claims it's an advocacy attempt to stop Chinese tiger poaching for medicinal purposes.
Joe Exotic has an even crazier video featuring a nearly perfect lookalike for his rival Carole Baskin. The song claims Baskin killed her former husband, Don Lewis, who disappeared in the late 90s. Baskin has denied all allegations but was considered a suspect for his disappearance, according to the documentary. The video shows the fake Baskin feeding pieces of meat to a tiger and alleges the meat is human via lyrics.
Baskin spoke out about Joe Exotic's music career on Sunday and claimed it's not really his voice. "The documentary never does reveal that Joe Exotic only lip-synced to songs written and recorded by Vince Johnson and Danny Clinton," she said on her Big Cat Rescue blog.
The rescue owner even claimed she has emails with both men to prove it. "The mix softened Joe's voice against Vince's voice on the CD in the car so much that I don't think the media or most viewers figured out that it wasn't Joe singing the song."
For comparison, here's a song by the Vince Johnson Band.