Joe Exotic's New Legal Team Formally Asks Trump To Pardon The 'Tiger King' In Video
Joe Exotic's campaign to get out of prison just got bigger. A lot bigger. In a new video, which aired exclusively Friday on TMZ, Exotic introduces a new legal team that has formally asked President Donald Trump to pardon the "Tiger King."
Trump has already acknowledged Exotic. In an April press conference, the president seemed to brush off a reporter's question about pardoning Exotic by claiming he'd "look into it."
But the new video makes a formal request. "This will be a case of redemption. Justice must be served," said Eric Love, Exotic's new executive manager. "President Trump, we are asking you today: Please free Joe Exotic. He's absolutely not guilty. We're gonna be able to prove that. We're asking for a pardon."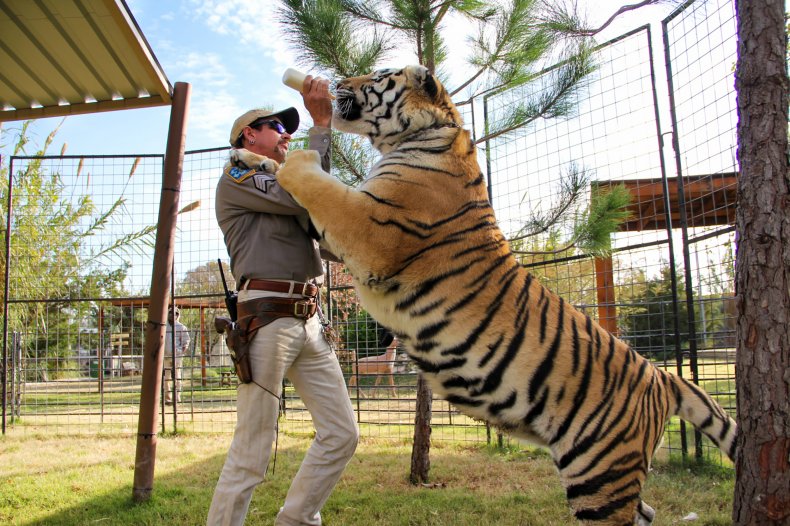 If that statement wasn't enough, the video has lots of other intriguing features. The legal team has a tour bus with an impassioned plea on its side: "TRUMP Please Pardon JOE EXOTIC," it reads in giant letters. Of course, a photo of Exotic's face, and that of a tiger, is plastered on the bus too.
In addition, a rooftop bus party, a few animal encounters and lots of motorcycle wheelies lend the video some excitement that Exotic would be proud of. You can watch it in full here.
The Tiger King is in prison for attempting to have his rival, tiger advocate Carole Baskin, killed and also for a slew of animal abuse charges and violations of the Endangered Species Act. It was all featured in Netflix's Tiger King documentary series, which immediately went viral with its wild storyline.
In the video, the team of attorneys and private investigator/executive manager Love are said to be "striving to get to the truth," in the words of lead counsel Francisco Hernandez. "This unit intends to prove that the Tiger King is not only not guilty; rather, he is the victim," Hernandez explains later.
Love also contributes his view of the defense. "Joe was led down a path by swindlers, subjected to biased judgment and convicted in a failure of judgment," he explains.
In addition to asking for a pardon, the legal team will be filing an appeal on Exotic's behalf. They'll also file a malicious prosecution lawsuit that will apparently claim that many of the people associated with Exotic's trial acted unfairly.
They may have a strong argument. The man Exotic purportedly hired to kill Baskin, Allen Glover, recently told TMZ he testified against Exotic as payback. This could be used to question the validity of the trial and conviction.
"I just wanted to f***ing pay him back for a little bit of the s*** that he caused," Glover explained. "All of the harm and misery that he gave to everybody here in this park. And animals. Period. That was a very small f***ing thing I did. I wish I could have done more to him."