Two of your favorite shocking shows are crossing over tonight when the Ghost Adventures Crew investigates Joe Exotic's Greater Wynnewood Exotic Animal Park. This year's Ghost Adventures Halloween special may teach you a little more than you'd like to know about the Tiger King filming location, and the alleged hauntings that paranormal lovers claim plague all who worked there.
This isn't the first time fans are hearing rumors that the zoo is haunted. Apparently, the it was built on a Native American burial ground—because of course it was. Jeff Lowe, who was the last owner of the zoo before the location was shut down, explained the alleged situation to TMZ in June. In addition to hauntings that may come with the land, Travel Channel explained some of the park's employees think the spirit of Travis Maldonado, one of Exotic's husbands, is still on the property.
Maldonado killed himself on the property in 2017, as explained in the Tiger King docuseries.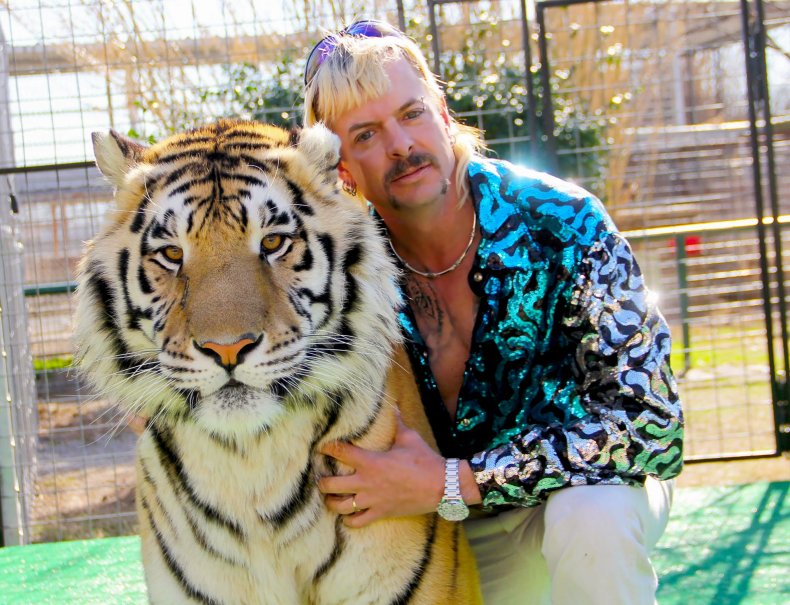 So what will the Ghost Adventures crew find? The special is aptly titled Ghost Adventures: Horror at Joe Exotic Zoo, and will host many more surprises than the crew expected to find.
"This investigation was wild from beginning to end," host Zak Bagans said in a press release. "We went into it thinking we knew a little about this story already, but there were so many surprises at every turn. It's a super-charged location and it felt surreal to be there. This special has all the drama, characters and twists that you would expect in any Joe Exotic story. But just when you think you've seen and heard it all, there's more."
Maybe the most exciting moment of the investigation, though, for crime fans, will be that a cadaver dog picks up on a possible scent. The feasible presence of a body will temporarily shut down the Ghost Adventures lockdown, rightfully so, as professionals make sure there aren't actually dead bodies buried at the Greater Wynnewood Zoo.
Host Bagans expressed his excitement for the upcoming episode on his Twitter account Wednesday and even noted that the famed paranormal inventor Bill Chappell will stop by. It sounds like an episode that promises to be truly unpredictable. And that's exactly what's expected from a place as wild as the former home of Joe Exotic.
Tune into the two-hour special Ghost Adventures: Horror at Joe Exotic Zoo at 9 p.m. ET Thursday on Travel Channel.