Joe Exotic's Zoo Is Closed, So What's Happening to His Big Cats?
It's time to cancel your Tiger King-themed vacations. Jeff Lowe announced Tuesday he's decided to close the Greater Wynnewood Exotic Animal Park, effective immediately. That's a major change of plans for his promised bigger and better zoo, too, one that will prohibit the public from ever stepping foot inside.
Though in the Tiger King series, Lowe claimed to be building Tiger King Zoo, a giant, animal-oriented attraction, he's changed his mind about how the zoo will operate. A Facebook post on the Greater Wynnewood Facebook page revealed the new zoo will simply be a set for filming "Tiger King related television content for cable and streaming services."
From the sounds of the post, Lowe plans on keeping all of the exotic animals that have long been at home in the Greater Wynnewood walls. It appears the plan to transfer these animals to Tiger King Zoo is still a go, but with a catch. Instead of being part of any public attraction, the animals will simply be considered Lowe's pets.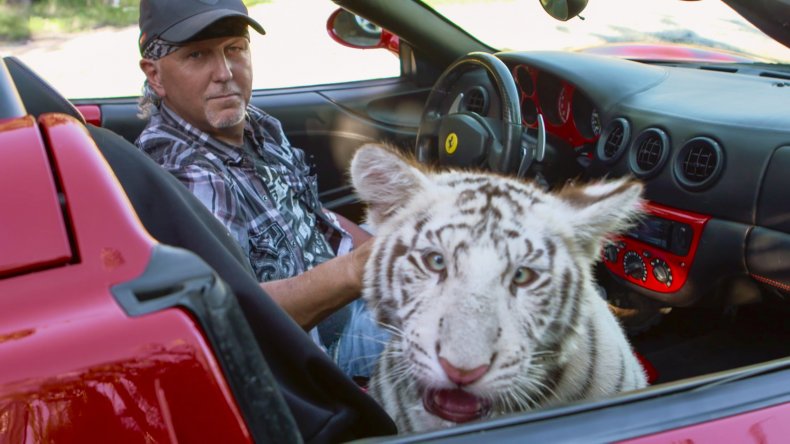 Lowe is giving up his United States Department of Agriculture (USDA) license, which examines animal treatment in regards to the Animal Welfare Act. "Do the [sic] the permanent closure of the Wynnewood Zoo, I'm forfeiting my USDA exhibitors license," he wrote. "The very agency that has given my facility five consecutive perfect inspections, has now folded to the pressures of PETA and continue to make false accusations against me."
Newsweek reached out to the USDA to see if Lowe's plan to televise the animals could jeopardize his commitment to private animal ownership.
Without that license, though, it's still legal for Lowe to own exotic animals in Oklahoma. That means there's no need for him to give up the big cats and other animals. And he doesn't plan to. "In the State of Oklahoma, exotic animal ownership is perfectly legal," he wrote. "Rest assured that all the animals will continue to have excellent care, and consequently will no longer be subject to USDA inspections or PETA spies."
So in summary, Lowe will continue to own and care for the animals viewers saw in Tiger King, but with less public attention.
The decision to close The Greater Wynnewood Exotic Animal Park comes after a judge gave legal ownership of the property to Lowe and "Tiger King" Joe Exotic's mortal, animal justice enemy Carole Baskin. The Big Cat Rescue owner hasn't officially taken over the property just yet, though.
Baskin was not awarded any of the animals, just the Greater Wynnewood property. What she plans to do with it is unknown. In a statement to Newsweek in June, Baskin explained why the big cats weren't involved in the legal transactions. "As we have pointed out many times, tigers have no economic value once they are too big to pet," she shared. "So they are not 'assets' that Big Cat Rescue could seek to obtain ownership of and move to better homes in our legal action to collect on our judgment. We wish we could have."