Amazon Says They're Working to Remove 'Joe and the Hoe' T-Shirts After Outcry
Amazon tells Newsweek they are working to remove T-shirts featuring an offensive "Joe and the Hoe" slogan that are still available to purchase on the site, despite the company saying that they would be removed following a backlash yesterday.
As Newsweek reported on Tuesday, Amazon faced outrage from customers when T-shirts referring to presidential candidate Joe Biden and his running mate U.S. Sen. Kamala Harris as "Joe and the Hoe" appeared on the website.
Amazon told Newsweek in a statement on Tuesday that the T-shirts—that were listed by third-party sellers—would be taken down: "All sellers must follow our selling guidelines and those who do not will be subject to action including potential removal of their account. The products in question have been removed."
While it is true that some of the products that were available yesterday have been removed from Amazon, at least two other T-shirts featuring the slogan were available to buy as of 11 a.m. ET on Wednesday.
When Newsweek pointed out that T-shirts with the slogan still remained on the site, the company responded by saying "We are working on taking these down."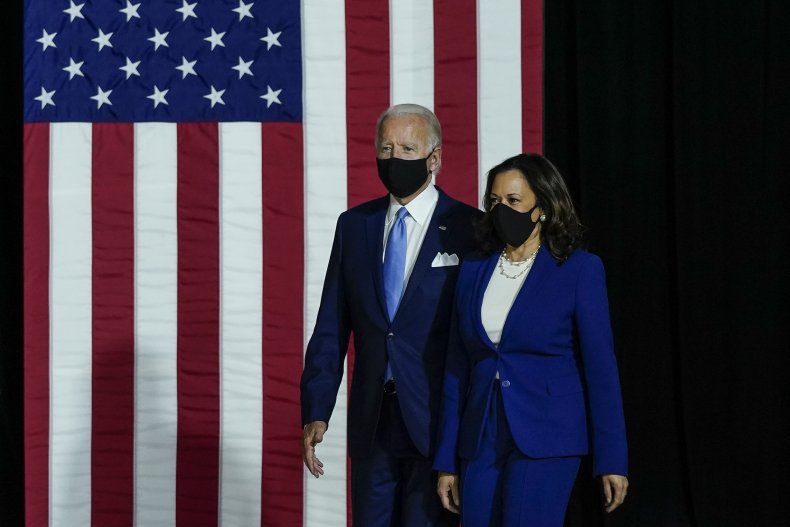 One T-shirt is described as "Joe and The Hoe for Men Cotton Crew-Neck Short Sleeve Biden Harris Vintage Political T-Shirt" while another is described as "Joe and The Hoe Votes No 2020 Biden Harris Novelty Political T-Shirt."
Both T-shirts are sold by the same seller named "Weisay" and both T-shirts are selling for $17.99. The seller also has other political T-shirts available, such as one that says: "Yes, I'm a Trump girl, get over it."
One T-shirt from the seller says "save America's postal service" while another says "I [heart] Fauci." Another T-shirt from the same seller features an image of Ronald Reagan with the slogan "I smell hippies."
The offensive slogan referring to Biden and Harris has also been used outside of T-shirts sold on Amazon. Bill Baptist, a freelance photographer for the Houston Rockets, shared an image of an edited version of Biden's campaign logo that referred to Harris as the sexist term.
The NBA said in a statement that Baptist was fired, and in response, Baptist said: "The phrase I posted does not reflect my personal views at all. I should not have been so insensitive to post the statements by others.
"I sincerely apologize to all of those who have rightfully been offended and I have taken the post down from my FB page. It was a horrible mistake on my part."