Do These Look Like the Best 'Appropriate Father/Son Interaction' Memes to You?
Is it appropriate for a father to kiss his only living son on the cheek? That's essentially the question that former New York Police officer and conservative commentator John Cardillo prompted Twitter users to weigh in on Wednesday.
Cardillo posed a question—"Does this look like an appropriate father/son interaction to you?"—alongside a black-and-white photo of Democratic presidential candidate Joe Biden and his son Hunter Biden embracing, as Joe Biden plants a big smooch on the side of Hunter Biden's face.
Within a matter of hours, Cardillo's tweet racked up thousands of likes and retweets, and more than 60,000 comments. While there was plenty of feedback that, yes, it was an appropriate exchange between the former vice president and his son, some people couldn't help but make a mockery of Cardillo's post by sharing memes of instances that have occurred between fathers and their children throughout pop culture.
Of course, there were members of the left who pondered if an age-old photo of President Donald Trump kissing his daughter Ivanka Trump on the mouth was appropriate.
And what about that snapshot of Bart Simpson preparing to wack his father over the head with a chair while Homer relaxes unknowingly in the tub? One commenter wondered whether that an appropriate father/son interaction, too.
Or how about that moment when Commodus (Joaquin Phoenix) embraces his father Marcus Aurelius (Richard Harris) in the 2000 blockbuster Gladiator—you know, right before Commodus murders the elderly king after finding out that his father plans to name Maximus (Russell Crowe) the next king?
A meme of Dragon Ball Z's Gohan following behind his mentor, Piccolo, made for a sweet familial interaction. Did it look like an appropriate father/son interaction, though? What would you say about Kermit sitting with his arm around his nephew Robin?
Luke Skywalker and Darth Vader battling it out with their lightsabers—that probably isn't the best example of a positive exchange between father and son.
Norse goddess Rhea certainly didn't think it was appropriate for the god of time, Cronus, to eat his sons, but one Twitter user was curious as to whether or not Cardillo thought a picture of the mythical god grotesquely swallowing his kid whole was an appropriate father/son interaction.
Oh, and what about this? Was it an appropriate father/son interaction between the Tiger King himself, Joe Exotic, and his much younger second husband, Dillon Passage?
Memes aside, though, Cardillo followed up his viral tweet on Thursday and said he was merely "curious to get people's take" on the Biden family photo. "Ironically, it was the left that immediately implied something illicit and began attacking like rabid dogs to cover up whatever they perceived," he tweeted. "They'll always prove their deviance."
Nonetheless, Cardillo found some of the responses to his tweet funny, although he admitted in a Miami New Times interview on Thursday that he would "never take a photo like that" with his father.
"It's perfectly normal for a dad to kiss his son. If it was a candid moment of a dad kissing his son goodbye, that'd be fine," he said. "But Hunter Biden is staring at the camera like a hostage. That's creepy and weird and done for political reasons."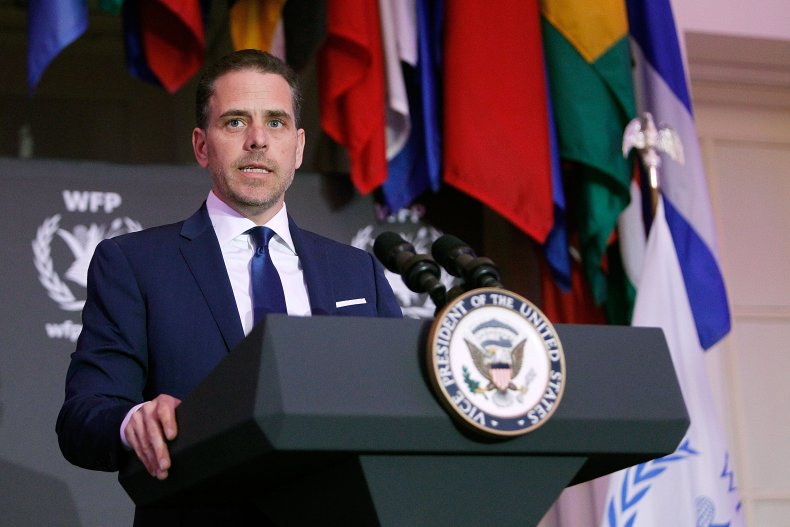 Cardillo went on to say that his main reason for tweeting the photo was to depict the "hypocrisy" of liberals and the media, and to prove that left-wing commenters would be quicker to blast him over his reaction to the image than they would to a Tuesday report that Joe Biden and Hunter Biden brokered a business deal with a Chinese firm after President Barack Obama, under whom Joe Biden served as vice president, left office.
Ironically, news about Trump's reported secret business deals with China was drawing attention on Thursday.