Joe And Irma Garcia GoFundMe Raises $2M After Uvalde Teacher's Husband Dies
More than two million dollars has been raised on GoFundMe for the family of Joe and Irma Garcia, a 4th grade teacher who was killed while protecting her students during the Uvalde shooting, and her husband who passed away two days after her.
Irma Garcia, 48, was one of the two teachers shot by 18-year-old Salvador Ramos on Tuesday in Uvalde.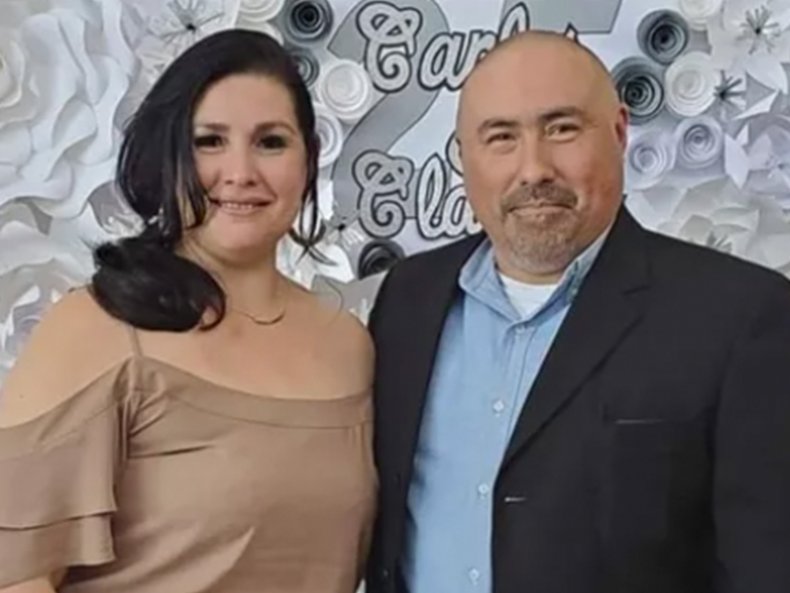 Her nephew John Martinez, a 21-year-old student at Texas State University, told The New York Times that her body was found "embracing children in her arms pretty much until her last breath."
"She passed away with children in her arms trying to protect them," Martinez wrote on Twitter. "Those weren't just her students, they were her kids as well, she was teacher of the year, and was loved by so many, she's gone but the world will never forget her name."
Two days after teacher Irma Garcia was killed during the deadly shooting at the Robb Elementary School in Uvalde, her husband Joe Garcia passed away after a fatal heart attack.
According to what Martinez told The New York Times, 50-year-old Joe Garcia had just visited his wife's memorial at the Robb Elementary School on Thursday when, once returned home, he suffered a heart attack.
Martinez said he "pretty much just fell over." Joe Garcia was taken to the hospital but unfortunately, did not make it.
He had been reportedly in shock after the loss of his wife.
Joe and Irma Garcia were high school sweethearts and had been married for 24 years, writes the newspaper. The couple had four children together, Cristian, 23, Jose, 19, Lilyana, 15, and Alysandra, 12.
"These two will make anyone feel loved no matter what, they have the purest hearts ever," wrote relative Joey Martinez on Twitter following the news.
The death of Joe is another terrible blow to the grief stricken family of Uvalde, and another tragedy for the couple's children and their relatives.
John Martinez told the Washington Post that the Garcias were an "all-American family."
"They're great people. The entire family, they're all great people. They don't deserve this," he told the newspaper. Martinez told the Washington Post that the family was "just in shambles right now."
Family members of Joe and Irma Garcia have initially created two fundraisers, now merged into one, to support the family's funeral costs and other expenses after tragedy struck twice in their household.
If you'd like to help, you can find the fundraiser here.
The fundraiser initiated by Irma Garcia's cousin, Debra Austin, has already collected over 1.8 million dollars, topped up by over 500,000 dollars raised by Martinez' GoFundMe fundraiser.
"Thank you to the teammates at twitter philanthropy for donating and helping my family help the Garcia family, I am truly from the bottom of my heart so beyond grateful that my Tia Irma's story is being heard across the world and people are showing their support," wrote John Martinez on Twitter.
Texas state Senator John Whitmire told CNN on Wednesday that Ramos purchased two AR-15-style rifles legally just a few days before the school shooting incident.
One of the rifles was found next to Ramos after he was shot and killed by law enforcement, according to Whitmire.