Video of Joe Biden Maskless in D.C. Restaurant Viewed Over 600K Times
Video from Joe and Jill Biden's "date night" shows the couple walking through a restaurant in D.C. without wearing masks, in what appeared a violation of rules.
President Biden and the first lady were filmed exiting Fiola Mare, a Michelin-starred Italian seafood restaurant, in Washington Harbor on Saturday evening.
The blurry footage appeared to show a maskless Jill Biden walk past a table ahead of her husband, who follows with a mask in his hands but not over his face. The clip, which has been viewed more than 600,000 times on Twitter and over 55,000 times on TikTok, was first reported by Insider Paper.
Photographs by news agency The Associated Press and picture agency Getty also showed the couple emerging from the restaurant without masks on their faces, being accompanied by secret service officers who did have masks on.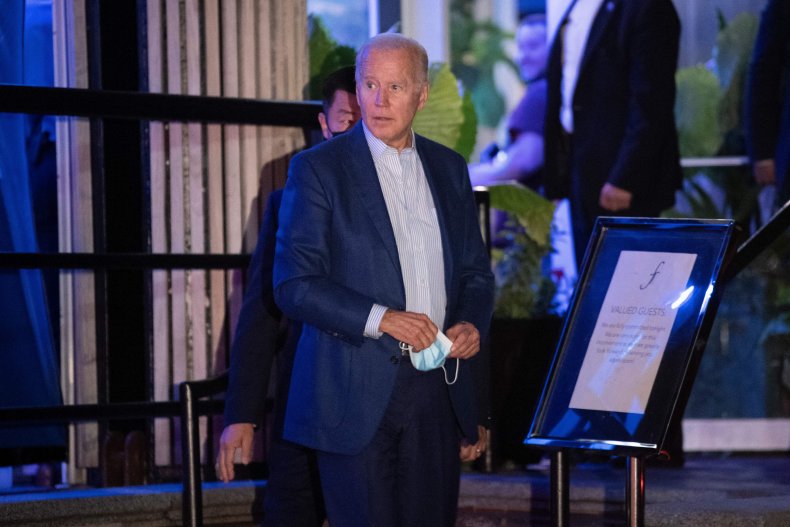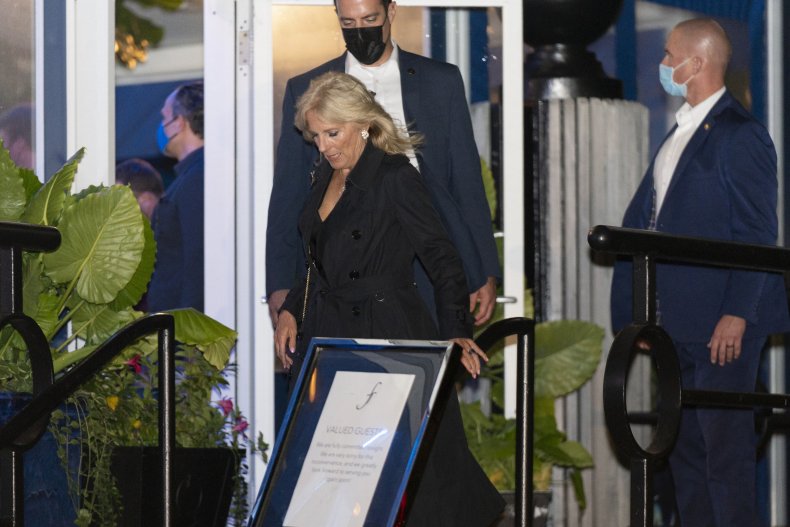 D.C. rules state masks must be worn inside restaurants when not eating or drinking: "Everyone (including fully vaccinated people) must wear masks [in]... restaurants and bars (when not eating or drinking)."
The White House has been contacted for comment.
The couple dined at the restaurant to mark "Sweetest Day"—a holiday in the Midwest and Florida to celebrate romantic deeds. Earlier, they attended church at Holy Trinity Catholic Church in Georgetown.
Emergence of the video comes as Joe Biden faces arguably the most important week of his presidency so far, as the House and Senate return from recess.
Biden will be hoping to unify congressional Democrats fractured over a spending bill seeking to expand the social safety net—a crucial part of Biden's agenda.
Biden's "Build Back Better Act" has been blocked by moderate Democratic Senators Joe Manchin and Kyrsten Sinema, who have balked at its $3.5 trillion price tag.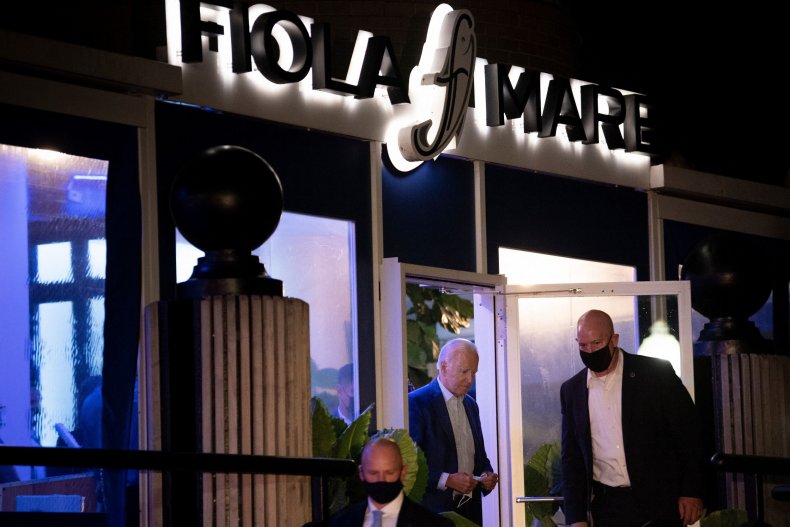 In response, House progressives have been holding up a $1.2 trillion bipartisan infrastructure bill (which they had wanted to do more to tackle climate change).
The Democrat-controlled House and Senate have only 10 legislative days to meet a self-imposed October 31 deadline to pass both bills.
Meanwhile, the Biden administration will also be seeking to secure deals on raising the debt limit and government spending to avoid a federal shutdown.
In addition, the House select committee investigating the January 6 riot at the U.S. Capitol are set to vote on Tuesday on a recommendation report for the Justice Department to bring charges of criminal contempt against former President Donald Trump's adviser, Steve Bannon, for flouting a congressional subpoena.