Representative Joe Kennedy Says Donald Trump Is Using Defense Production Act to 'Penalize' One Company Amid Coronavirus Outbreak
Massachusetts Representative Joe Kennedy III has accused President Donald Trump of using the Defense Production Act (DPA) to penalize a company instead of protecting American health care workers.
The Democratic congressman told NBC News that medical staff were in "desperate need" of materials such as masks, and argued that the commander-in-chief was more concerned with hitting out at particular companies than protecting the country.
He also said that he had been involved with efforts to "track down" medical equipment such as masks as shortages were reported across the United States.
Kennedy made his remarks days after he joined calls for a national "shelter-in-place" order to be issued in an effort to curb the spread of the novel coronavirus.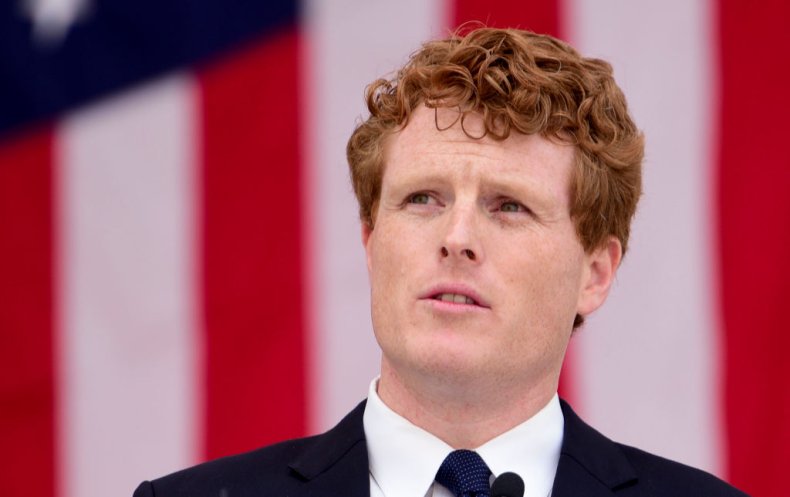 Under shelter-in-place orders, people are required to stay in their homes as much as possible, with exceptions permitted for essential activities.
Asked why he believed leaders were not yet calling for a national shelter-in-place order, Kennedy replied: "I'm not going to get inside the head of this president."
"He's using the Defense Production Act to try to penalize a company, rather than trying to protect our country and our health care workers that are in desperate need of materials," he added.
The Massachusetts Democrat went on to say that he had been on the phone with manufacturers in China and Central Asia trying to "track down" masks, ventilators and other medical equipment to deal with shortages.
"The president boasts about the enormous manufacturing capacity that we have here... and has the power to actually make sure that we can protect our people, and won't do it."
Speaking about the $2 trillion coronavirus stimulus package passed by Congress last week, Kennedy said: "This is a critically important piece of legislation. Was it the bill I would have drafted it? No. Was it a perfect piece of legislation? I think universally we can all assume... But it was a $2 trillion-plus-dollar bill to try to ensure that American families can rest a little bit easier knowing that their financial needs are going to be met so they can focus on their health and getting everyone healthy.
"We've got a long way to go to make sure that money gets out into the hands of Americans, in the hands of small businesses, in the hands of folks that actually need it so they can, in fact, meet their obligations, pay those bills and pay their own rent and mortgages."
Newsweek has contacted the White House for comment and will update this article with any response.
President Trump invoked the DPA last Friday to force manufacturers into producing ventilators amid the ongoing COVID-19 pandemic.
Peter Navarro, the director of trade and manufacturing policy, was named as the policy coordinator for the DPA at a White House coronavirus task force briefing on the same day.
Navarro said the DPA was activated with General Motors over "a problem" that arose around the production of ventilators.
In a statement sent to Newsweek last Friday, General Motors said: "Ventec, GM and our supply base have been working around the clock for over a week to meet this urgent need. Our commitment to build Ventec's high-quality critical care ventilator, VOCSN, has never wavered."